The Ravens offensive line avoided costly mistakes against the Dolphins in the opener.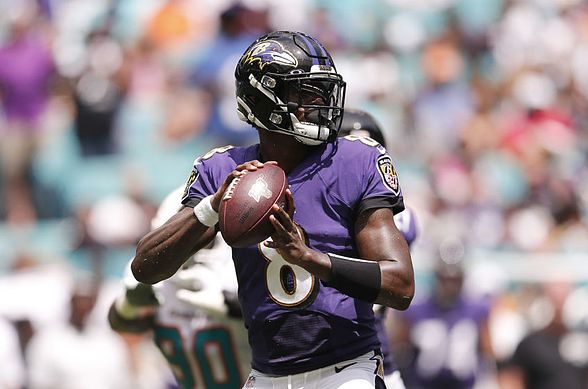 The lone sack occurred on what appeared to be a busted play where the line was expecting something else (they were all blocking to the left) and Jackson made a play-action fake to no one before tucking and running (Q2, 10:38). That play was the only time either Jackson or Griffin was knocked down in the pocket.
The Ravens afforded Jackson ample time and space (ATS) on 8 of 21 drop backs (38%), which is unexceptional, but a function of Lamar's early success. Let's review:
Jackson's first 2 passes came out quickly for gains of 7 and 3 yards

On the next 5 drop backs, he had ATS resulting in gains of 47 (TD), 83 (TD), 9, 14, and 33 (TD).

At that point the Dolphins changed their defensive game plan to use numbers and scheme to dial up additional pressure and Jackson had ATS on just 3 of his final 14 drop backs.
Using Flacco's results with and without ATS from 2009-17 as a baseline, Lamar should have been expected to throw for 119 yards. He exceeded that by 204 net yards, which is a larger positive deviation from expectation than any game Flacco had over the period I collected the data.
The Ravens ran 70 scored snaps (excludes accepted penalties which result in no play, kneels, spikes, and special teams plays that result in a run or pass).
Stanley: Ronnie had a solid game in most respects, but 2 holding penalties ruined his score. He was beaten inside by Jerome Baker for a full pressure (Q3, 10:26). He appeared to again be beaten inside for a pressure by DE Charles Harris (Q3, 4:27), but I can see no evidence of a hold. At that point, the Ravens were enjoying a substantial lead both on the scoreboard and in flags, but Ronnie could be seen watching the video replay in frustration. Of 6 missed blocks, I have him beaten at the LoS on 4 by Harris. He had 5 blocks in level 2, 2 pancakes, and pulled successfully on his only attempt. On the first drive of the game, he blocked 2 men on the same highlight play (Q1, 11:49). I didn't score it as a highlight, but he flattened the DT opposite Bozeman on the 83-yard TD pass to Brown and was signaling Lamar to run left with the field open. Fortunately, Lamar kept his eyes downfield and delivered the pay of the game after a leisurely 3.50 seconds in the pocket. He was retired for the day prior to the final drive and was replaced by Hurst.
Scoring: 57 plays, 50 blocks, 6 missed, 1 pressure, 2 offensive holding, 36 points (.63 per play). Adjusted that's a D+. I adjusted slightly for the ticky-tack foul, but if treated simply as a pressure, he would have had a solid C.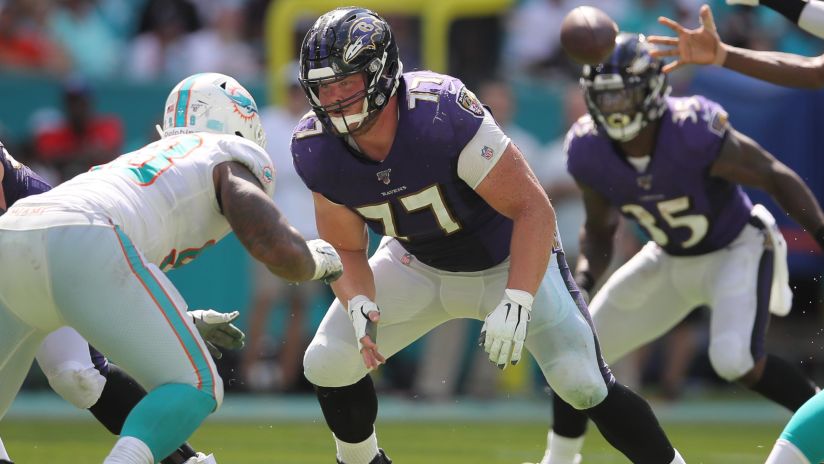 Bozeman: Bradley's start at LG was kept under wraps until approximately 2 hours before game time, but he delivered a solid start with a heavy reliance on mobility. He was asked to pull on 14 occasions and completed 12 which helped lead some of the game's biggest run plays, including Ingram's 49-yard run to open the season (Q1, 14:56). He surrendered 2 full pressures, including a late blitz pickup on LB Jerome Baker (Q3, 8:50) and a bull from DT Davon Godchaux (Q3, 3:55). He missed a troubling 8 blocks at the LoS, plus 2 others (one in L2, one on a pull where he was blown up by penetration). The misses at the LoS were a combination of problems, including missed cuts, being shed, and being beaten to either side by quicker defenders. Given he had 230 scored snaps at guard as a rookie, he should be passed issues with not knowing his assignment, but he occasionally appeared slow to respond to either gap. He had 6 blocks in level 2 and delivered 1 pancake. His highlight was a 10-yard drive of DT John Jenkins (Q2, 1:59).
Scoring: 70 plays, 57 blocks, 10 missed, 2.5 pressure, 52 points (.74 per play). After adjustment that's a C at guard. While none of the mistakes he made hurt the Ravens significantly (the team gained 60 yards on the 2 full pressures he allowed), he has a lot to clean up.
Skura: Matt had a solid opener. He received a half charge on 2 shared pressures, 1 with Yanda (Q2, 7:43), and 1 with Bozeman (Q4, 7:16). I also charged him with ¼ of the penetration (Q4, 7:59) where he appeared to be tripped up by Mekari and then fell on the football after the whistle had blown to stop Hill's forward progress. He missed 6 bocks, which is a lot for a center. All of those were losses at the LoS, so it's a tendency to be monitored. Matt made 5 blocks in level 2, had 1 pancake, and delivered an effective block on both pulls. He deserves credit for the fact the Ravens connected on 17 of 19 pulls as a team, because most of those passed behind him. I did not score a highlight for him.
Scoring: 70 plays, 61 blocks, 6 missed, ¼ penetration, 1 (2 x ½) pressure, 58.5 points (.84 per play). That's a B- after adjustment at center.
Yanda: Marshal continues to open one side of the gate on the bulk of the Ravens power runs. He played 3 quarters before retiring and had just 2 half-pressure charges. I scored him with just 1 missed block where he was shed by 1st-round pick Chris Wilkins. He had 3 blocks in level 2, did not have a pancake or highlight, and made his only pull.
Scoring: 48 plays, 45 blocks, 1 missed, 1 (2 x ½) pressure, 43 points (.90 per play). That's an A with adjustment.
Brown: Orlando's performance stood out as the best on the OL and was a welcome sight after an uneven preseason. He was beaten outside by DT Wilkins for a half pressure (Q3, 8:03) and allowed a half penetration on an ugly busted run play (Q4, 10:15) when he whiffed on DT Godchaux. He missed just 1 block, which came when driven back by DE Ledbetter (Q2, 4:19). He made 4 blocks in level 2 and was not asked to pull, but consistently made his seals and kickouts in the power run game. His highlight was a combination on DT Wilkins then LB McMillan on the Ravens first touchdown (Q1, 10:38)
Scoring: 70 plays, 67 blocks, 1 missed, 1/2 penetration, 1/2 pressures, 65 points (.93 per play). That's an A with or without adjustment.
Mekari: Patrick entered for the last 2 series and had an uneven showing. That's a marginal concern given his difficulties occurred when the Dolphins defense had been worn down by a long day at the office. He was bulled into Griffin by DT Wilkins for a full pressure charge (Q4, 4:26). He also had a ¼ share of the penetration described above for Skura (Q4, 7:59). Of 3 missed blocks, 2 were less costly failures to find a block in level 2 (L2NB).
Scoring: 22 plays, 17 blocks, 3 missed, 1/4 penetration, 1 pressure, 14.5 points (.66 per play). D.
Hurst: James entered at LT for the final drive and made 12 of 13 blocks. That's short of the 20 snap minimum I have to assign a grade, but a good performance nonetheless.
If your interesting in seeing scoring trends for the players this season, those charts will be posted shortly and updated weekly.