Cornering the Steelers
The Ravens won this game with excellent play from all 3 cornerbacks. Let's review both the good and the bad from each:
Racing form shorthand: PR13 (13 + 0) [5] means a pass right for 13 yards total divided as 13 air yards plus 0 yards after the catch (YAC) and [5] indicates the segment of the field between the right numbers and sideline where the ball was originally caught.
Maurice Canady
· (Q2, 10:50): He brought down WR Diontae Johnson PL2 (2 + 0) [2].
· (Q2, 8:17): He was in position to tackle WR Johnson short of sticks to deny 3rd/5, but Rudolph misfired.
· (Q2, 3:06): Canady appeared to be the intended receiver 40 yards [1], INC on deep bracket of Johnson.
· (Q2, 3:00): He was flagged for a ticky-tack DH on WR Johnson.
· (Q2, 2:52): He surrendered consecutive curl completions to Johnson (7 + 0) and Washington (5 + 0).
· (Q2, 1:52): On 3rd/10 with ample time and space (ATS) for Rudolph, he had tight coverage of Holton 42 yards [2], INC.
· (Q2, 0:12): He had tight coverage of Washington in EZ, forced overthrow, but negated by Pierce's RTP.
· (Q2, 0:07): He had tight coverage of Washington in EZ, with Onwuasor underneath to force the throw away and end-of-half field goal.
· (Q3, 5:51): Maurice delivered FF OOB on what Gene Steratore said should have been PD/INC to deny 3rd/8 on Hodges to Johnson PR13 (13 + 0) [5].
· (Q4, 11:34): He made a quick tackle on Hodges to Smith-Schuster PL18 (17 + 1) [2] with Judon also close in cover 3.
· (Q4, 7:46): He was positioned for INT and drew OPI on Johnson 40 yards [1] by the goal line to stall the Steelers drive.
Brandon Carr
· (Q1, 14:56): Brandon made a quick tackle on Rudolph to Smith-Schuster PL2 (0 + 2 YAC) [1].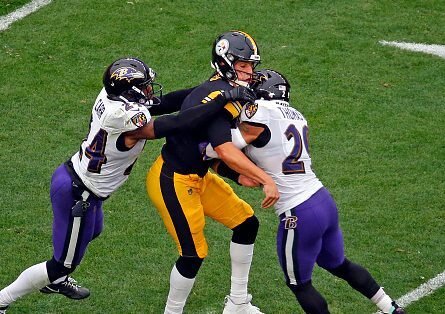 · (Q1, 4:23): He, Canady, and Onwuasor were approximately equidistant in zone on Rudolph to Washington PM21 (15 + 6) [4]
· (Q3, 8:22): Carr appeared in position to deflect pass intended for Washington 23 yards [2], but ball thrown behind, INC.
· (Q3, 6:38): Despite no apparent contact with Washington, he was called for DPI by the right sideline.
· (Q3, 5:56): Brandon hit WR Washington as the ball arrived 0 yards [2], pass fell INC, no PD credited. Washington left with an arm injury.
Marlon Humphrey
· (Q1, 2:50): Marlon and Carr collided to avoid rub, Rudolph to Smith-Schuster (JJSS) PL35 TD (14 + 21) [2]. JJSS ran through club/tackle from Humphrey.
· (Q2, 5:53): Steelers ran wildcat with 7 OL and power left, Marlon penetrated past pulling DeCastro, and Finney to create a 2-yard bubble, Clark tackled Samuels RL-5.
· (Q2, 3:00): He had a PD/near INT 8 yards [5] covering McDonald negated by Canady DH.
· (Q3, 5:22): He contained Holton well on double-reverse to limit gain to 4 yards.
· (Q4, 5:24): He was flagged for defensive holding on Smith-Schuster tacked onto Hodges RR21 scramble.
· (OT, 7:37): He dislodged the ball from Smith-Schuster, got up, and recovered it from 10 yards away to set up the game-winning field goal.
The play of the Ravens corners was critical on a day where the pass rush didn't provide much help, even when rushing numbers (see below). Excepting the TD pass to Smith-Schuster, there weren't any significant YAC plays surrendered by corners.
Note: all snap totals exclude penalties resulting in no play, kneels, spikes, and specials team plays resulting in a run or pass. As such, they will be lower than other published totals.
ILB Changes
The Ravens addressed weaknesses in ILB play this week with 5 moves beginning with last week's loss to the Browns:
· They moved the green dot from Onwuasor to Jefferson, which allowed for substitution for Peanut in each of the last 2 games. With Jefferson's injury, Onwuasor took back the green dot for most of the 4th quarter and overtime in Pittsburgh.
· The Ravens played DeShon Elliott at dime for some nontraditional down and distance snaps against the Browns. It appears Clark will take Jefferson's spot at SS and may even become the signal caller. That leaves an opening for Elliott to play either Clark's big nickel role or to replace the MLB on any snaps of quarter defense Martindale deploys. Elliott played 3 dime snaps (includes 1 penalty, with down/distance of 1/20, 2/10, 2/10) in Pittsburgh.
· The Ravens signed veteran special-teams linebacker LJ Fort, who had been released by the Eagles. Fort did not play a defensive snap, but he took down Holton at the 11-yard line on the opening kickoff.
· The Ravens signed free agent Josh Bynes who was the defensive signal caller for the Ravens for 2 games in 2012. Bynes played well, including the interception which set up the Ravens first touchdown.
· The Ravens made Kenny Young a healthy scratch for the Steelers game after several coverage breakdowns. Board (1 snap), Onwuasor (45), Fort (0), and Bynes (35) were all active.
DL Workload Moderated
The Ravens elevated Zach Sieler from the practice squad this week and activated 5 defensive linemen for the first time this season. Sieler (4 snaps), Ricard (12), and Wormley (13) all had a short workday. However, since the Ravens outsnapped the Steelers 73-51, neither Pierce (34 snaps) nor Williams (34) were heavily taxed. Daylon Mack was inactive.
Pass Rush
The Ravens allowed ATS to Rudolph/Hodges on just 11 of 32 (34%) pass plays, but also allowed 9 other passes where the ball was out quickly, but the pocket did not appear as if it would have held up for 3 full seconds.
For the season, the Ravens have been more effective rushing numbers, but the trend was reversed versus the Steelers, who beat the Ravens 6+ man rushes for 9.5 yards per play (76 yards on 8 plays). In the first 4 weeks, the Ravens allowed just 3.8 YPP when rushing 6+ (72 yards on 19 plays).
In terms of deceptive elements, Martindale called 18 individual blitzes from off the line of scrimmage, 4 stunts, and had 2 or more drop to coverage on 5 occasions. Of the Steelers 32 pass plays, Martindale ran 7 deceptive rushes which tells me not only that he preferred to create forced errors from Rudolph/Hodges, but also that he was not confident in the Ravens ability to get home with vanilla schemes.
Packages
· Dime (17 snaps) included both Levine (15 snaps) and Elliott (2 snaps, see above) substituting for the WLB. The Ravens held the Steelers to 74 yards on 17 plays with 6 DBs.
· Nickel (29 snaps) included a mix of the Ravens standard nickel with 3 CBs (26 snaps) and jumbo nickel (3-3-5, 3 snaps). The Ravens didn't play any big nickel.
· Base (2 snaps) was used twice, each on plays which set up a TD. Bynes interception (Q1, 7:14) helped put the Ravens up 10-0. The 14-yard pass to McDonald (Q3, 4:32) was also run against the base defense and immediately preceded the 1-yard TD which put the Steelers up 20-17.
· A Jumbo set with 4 defensive linemen was used in 2 instances. The first was a 5-yard loss run from the wildcat on 2nd and 1 (Q2, 5:53). The second was a 1-yard TD run.
Other Individual Notes
· Jaylon Ferguson's odd saga continued. At Pittsburgh, the Ravens allowed 9.2 yards per play he was on the field (165 yards on 18 plays). The next worst individual figure was 5.9 YPP on Bynes' snaps. For the season, the Ravens have allowed 563 yards on 43 snaps by Ferguson (13.1 YPP). Despite the poor team results with him in the game, Ferguson played well. He generated 3 individual pressures, held the edge well twice (Q4, 6:05 and OT, 8:16), and drew a holding flag from RT Matt Feiler (Q4, 10:54). That's a fine set of contributions for 18 snaps.
· Anthony Levine returned to the site of not only his best career game (2018, week 4), but also the best game ever by a Ravens dime. He had a contribution to 2 drive-ending plays in the 4th quarter on Sunday. He drew a holding call on Ramon Foster as a pass rusher, which was declined (Q4, 7:37). He took down Samuels for a loss of 2 to deny 3rd and 5 (Q4, 3:27).
Defensive MVPs
Humphrey

Canady

Carr
Honorable mentions to Ferguson and Thomas.