Missing CJ
After 3 weeks, the Ravens miss CJ Mosley.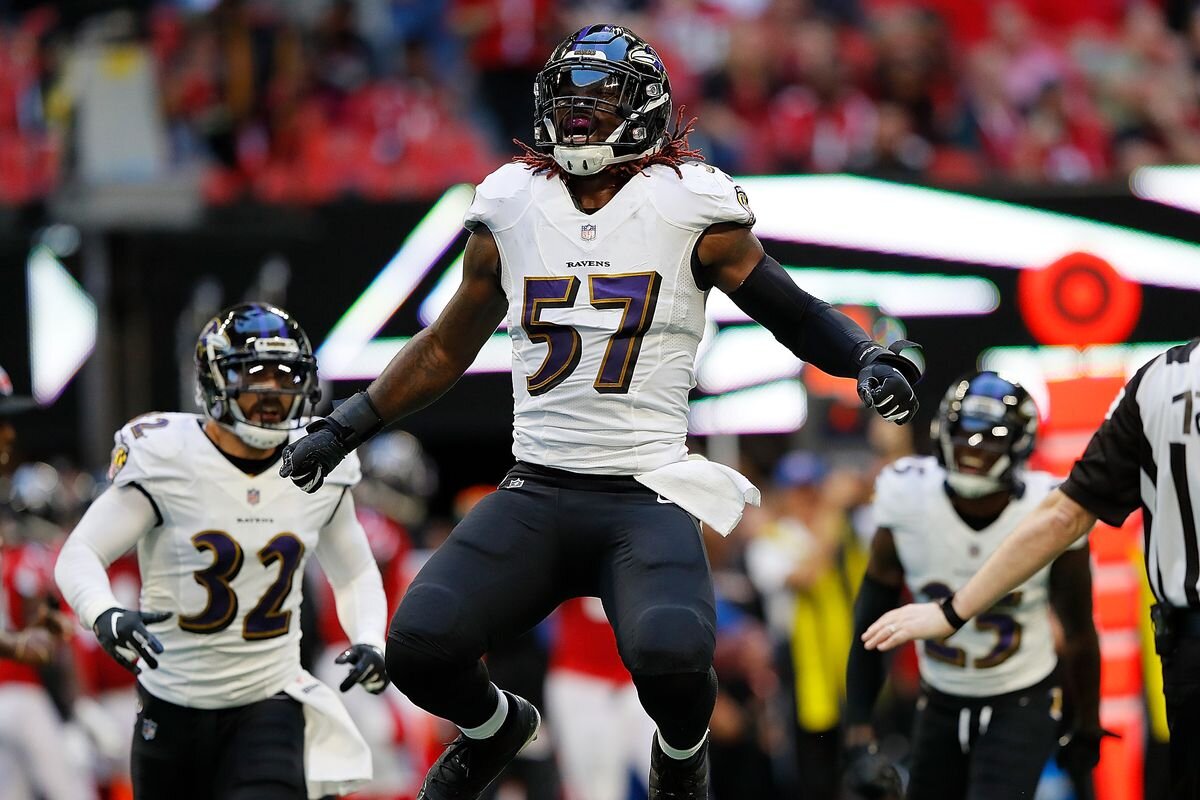 When he was here, Mosley's coverage skills were often unjustly maligned, but he provided consistency and cohesiveness to both the ILB group and defense as a unit. Without him, a group of downhill players (Onwuasor, Young, and Board) are being asked to do much more outside their wheelhouse.
We'll return to this theme throughout the piece, so let's dive in
Run Failures
The Ravens entered the game having allowed a microscopic 41 rushing yards in 2 games, but the Chiefs gashed them for 142 yards on 24 carries (5.9 YPC, excluding kneels). This occurred despite playing a KC team that entered the game with significant injury concerns at RB and on the offensive line. There is plenty of blame to go around for the frequent run failures, but the bulk must go to the linebackers (both inside and outside).
To summarize the 6 runs of 8+ yards:
· (Q1, 4:24): LG Andrew Wylie blocked McPhee on pull, TE Blake Bell pulled to block Onwuasor to lead RB LeSean McCoy RR12
· (Q2, 4:27): LG Wylie blocked Young to lead McCoy RM9
· (Q3, 10:35): Ferguson lost right edge on inside move vs. RT Mitchell Schwartz, TE Travis Kelce blocked Jefferson in level 2, McCoy beat Young to corner RR25
· (Q3, 10:01): Zone blocked right, Judon and Onwuasor overpursued in the backfield, losing the left edge at the line of scrimmage, LG Wylie blocked Young in L2, LT Cam Erving blocked Wormley 10+ yards right, RB Damien Williams cut back RM8
· (Q4, 6:39): TE Kelce chipped Judon, RT Schwartz maintained the block, WR Demarcus Robinson blocked Carr in level 2, RG Laurent Duvernay-Tardif blocked Board to lead Damien Williams RR41
· (Q4, 5:45): RG Duvernay-Tardif blocked Brandon Williams, LG Wylie and C Austin Reiter blocked Pierce to lead RB Darwin Thompson RR8. Board sprinted to opposite side at start of play as Onwuasor blitzed, each running themselves out of play.
Sadly, those weren't the only breakdowns.
Other Defensive Mistakes
Summarizing the rest of the most costly defensive plays at Kansas City:
· (Q1, 13:09): Mahomes completed an 11-yard pass to WR Sammy Watkins, Humphrey forced the fumble but Averett failed to recover.
· (Q1, 0:30): Tim Williams swam past LT Cam Erving for fast pressure to flush Mahomes right, Judon forced throw away with QH, but was flagged for horse-collar tackle. Failed 3rd/goal at 4, became 1st/goal at 2.
· (Q2, 10:02): Bowser partially deflected Mahomes' pass left to WR Mecole Hardman, who caught it anyway 4 yards in the backfield on the left side, Averett missed tackle in backfield, Jefferson took a bad angle also in backfield as Hardman ran across field for 14-yard gain
· (Q2, 3:12): With ample time and space (ATS), Mahomes found Hardman for an 83-yard touchdown (33 + 50 YAC) between the numbers and left hash with Canady trailing after Thomas jumped another route
· (Q3, 6:21): With ATS, Mahomes threw to Watkins for gain of 36 yards (29 + 7 YAC) between the right hash and numbers. The ball passed threw Onwuasor's hands without being intercepted or deflected.
· (Q3, 3:16): On 3rd/6, Mahomes was flushed right by Ricard and Judon, his throw was then intercepted down the right sideline by Carr, but negated by Jefferson's DPI on RB Williams.
· (Q3, 2:15): Martindale sent a 7-man rush including blitzes from Jefferson, Young, and Onwuasor, Mahomes screened left to McCoy for PL14 TD (-5 + 19 YAC) between the numbers and left hash. LG Wylie blocked Young in L2.
· (Q4, 1:51): On 3rd/9, Mahomes screened right vs. a 5-man blitz to RB Williams PR16 (-5 + 21) between the numbers and right hash, RT Schwartz blocked Judon, C Reiter blocked McPhee to convert game-sealing first down
It's difficult to find common threads in these failures, which included penalties, bad tackling, 3 missed turnover opportunities, 2 effective screen passes to thwart the Ravens blitz, and 1 big breakdown in the secondary.
Defensive Packages
Martindale used only 4 personnel packages against the Chiefs.
Base: The Ravens played their base 3-4 package for just 1 snap to start the final drive (no gain). For the season they have used it just 7 times and the opponents have gained just 1 yard.
Nickel: The standard nickel (3 CBs, 2 safeties) was used on 27 snaps. Mahomes and the rest of the Chiefs offense shredded it for 313 yards (11.6 yards per play).
Big Nickel: Martinadale employed big nickel as a response to 12 personnel on 21 snaps. Clark most often lined up opposite Kelce in the slot on those snaps. Clark played well and the Ravens were effective in big nickel, holding the Chiefs to 5.6 yards per play.
Dime: The Ravens returned to their standard dime alignment a week after playing primarily a 4-CB dime vs the Cardnials. Anthony Levine played 13 snaps (plus 4 others washed out by penalty). On 1 of those snaps (2nd down on the final Chiefs drive), they used a 4-safety version that included both Clark and Levine. The Ravens allowed just 5.8 yards per play in dime including their only sack.
Putting this information together, the Chiefs did the Ravens a favor when they put a 2nd TE in the game. Blake Bell caught 1 pass for 1 yard while the Chiefs WRs averaged 11.7 yards per target. Beyond that, the Ravens have a good pass defense with Anthony Levine in the game. Not only does he provide broad and flexible coverage value, but he replaces either Board or Young, neither of whom is likely to contribute to pass plays behind them.
Last season, CJ Mosley took most of the ILB coverage responsibility, in part due to the coverage weaknesses of Onwuasor and Young who shared the non-dime WLB snaps. This season, the responsibilities of that WLB platoon have been expanded to Peanut's full-time role as the Mike with Board and Young sharing the WLB snaps when the Ravens are not in the dime, which has made it difficult for the Ravens to defend passes in the middle of the field .
Looking at the OLBs
Note: all snap totals exclude penalties resulting in no play, kneels, spikes, and specials team plays resulting in a run or pass. As such, they will be lower than other published totals.
Tyus Bowser (11 snaps) was conspicuously absent despite some contributions in limited snaps. He had a pressure and partially deflected a ball that then settled into the hands of Hardman (Q2, 10:02) who outraced the defense to the other side of the field for a gain of 14. After playing 40 of the team's first 100 non-penalty snaps vs the Dolphins and Cardinals, he played just 18% vs the Chiefs. Bowser played the bulk of his snaps with Judon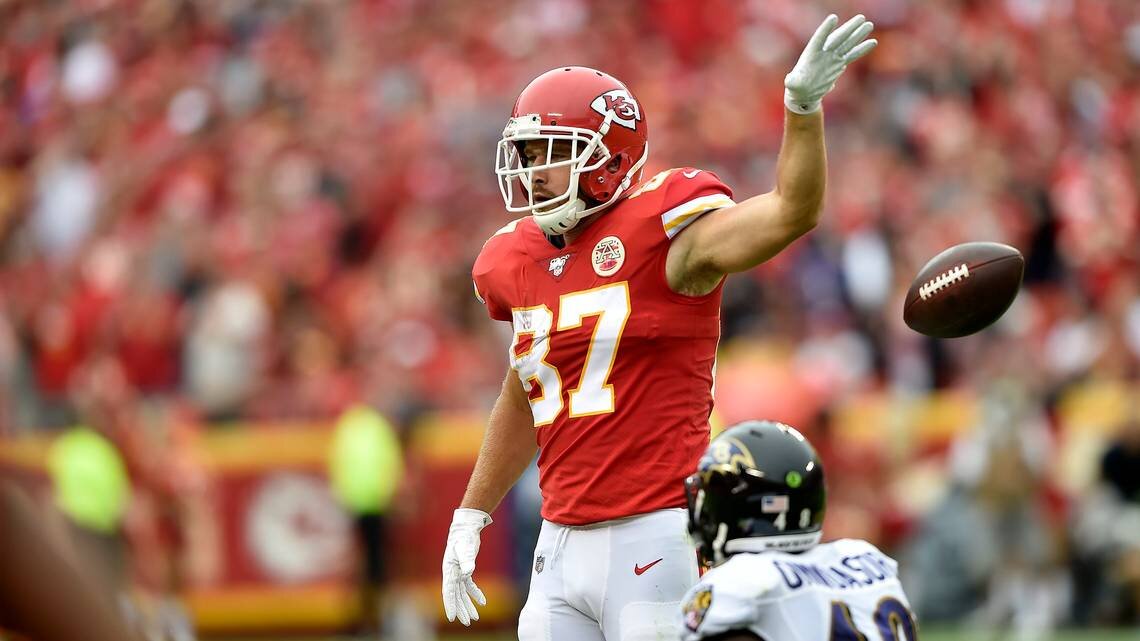 Jaylon Ferguson (9 snaps) was activated for the first time, but did not play well. He lost the right edge when he made an inside move on Schwartz (Q3, 10:35) that allowed McCoy to race for 25 yards up the right sideline. As a pass rusher, he did not record a pressure event. On his 9 snaps, the Ravens allowed 163 yards (18.1 YPP).
Matthew Judon (52 snaps) offset much of his value as a pass rusher with penalties, including a horse collar tackle of Mahomes that negated a failed 3rd and goal at the 4 to give the Chiefs 1st and goal at the 2. He also committed an illegal use of hands foul which negated a run stop for no gain. On the plus side, he drew a hold on RT Mitchell Schwartz and contributed to 6 pressure events, including a sack and 3 other QHs.
Pernell McPhee (51 snaps) did not generate a pressure in 24 snaps (12 pass) in the second half. It's difficult to understand the stepped-up workload given the light usage for Bowser and Williams.
Tim Williams (13 snaps) contributed to the pressure to flush Mahomes on what would become Judon's horse collar tackle. He did not otherwise make my notes.
The unbalanced OLB play raises multiple questions. Will McPhee's play be maximized (or even risked) by a pace for almost 600 snaps? How will the Ravens address the Sam LB spot if Judon is lost this offseason? Will they know enough about Bowser to trust him with the role? How will they proceed at the Rush LB spot if McPhee is lost?
I expect a substantial amount of the Ravens 2020 draft capital to be earmarked for the ILB and OLB roles.