Winning Ugly
The Ravens won an ugly, over-officiated, and mercifully terminated game to extend their preseason winning streak to 16.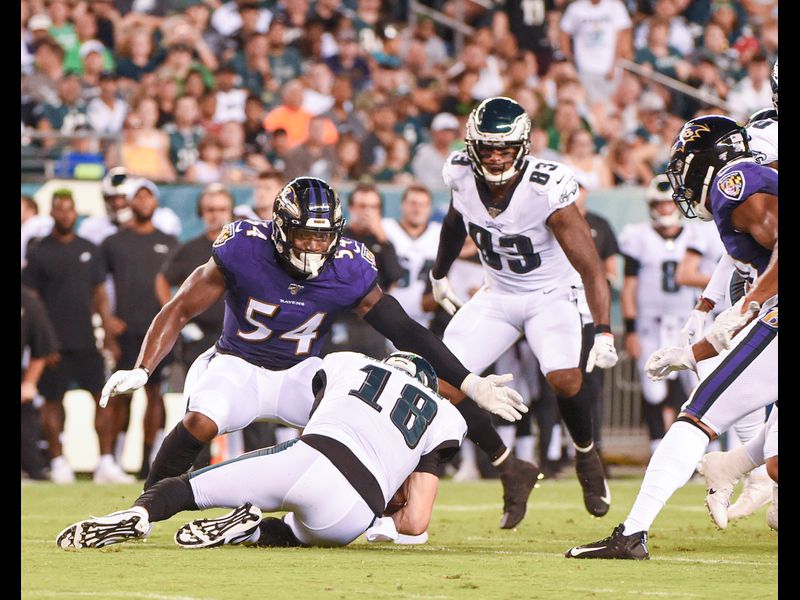 Both teams sat their starting QBs after joint practices. That created a battle of understudies between Trace McSorley and Cody Kessler, which is a little like going to the theatre to see The Usual Suspects and having to see Dude, Where's my Car? instead.
The Eagles were penalized 15 times for 115 yards and the Ravens 9 for 88 including a pair of absurd personal fouls in what may become the poster game for the end of preseason football.
Martindale Schemes with Starters
For the first 2 drives, Martindale called the defensive packages and scheme with more of the variation I expect when the regular season begins. To summarize:
He started with the nickel and Brandon Carr received the first opportunity at SCB.

On the first 3rd down, he called a standard dime package with Levine in for Young, McPhee kicked inside to rush, and Bowser at OLB opposite Judon. Having both Sam LBs in the game at the same time is a twist that gives the Ravens some pass rush/coverage flexibility. The Eagles converted 3rd and 6 with an 11-yard run.

He inserted Chuck Clark for a big nickel look and had him rush the passer while Thomas rotated to cover (Q1, 13:52)

The Eagles again ran on 3rd and 3 vs the nickel (Q1, 11:55), but Kenny Young stepped up to plug the right side and contain RB Corey Clement for no gain.

On 4th and 3, the Ravens stuck with the nickel and generated a scheme sack with a slot blitz from Carr and a blitz from Onwuasor.

On the next drive, the Eagles faced 3rd and 17 and Martindale again inserted the dime with 3 OLBs.
The starters finished a satisfying night in which they allowed just 30 yards on 10 plays with 2 first downs.
The Clock is Ticking
OLBs Bowser and Williams had outstanding games which reduce fears about the OLB depth. Bowser played well with the starters, was asked to do more as a pass rusher, set the edge effectively, drew 2 penalties, and had a sack. Tim Williams entered on the 3rd drive and created consistent pressure for the remainder of the game.
On the down side, rookie Jaylon Ferguson did not play and Shane Ray entered late in the first half and did little to advance his cause.
Individual Grades and Notes
As in past years, I have given each Ravens player a grade from +3 to -3 reflecting how much my expectation of their impact on this year's team changed based on their performance (game grade before the front slash, cumulative grade after). I don't rate starters, players who have no place on the team, or anyone for whom I don't think I have any data for a judgment. The players here are new to the team, rookies, on the cusp of making the team, have new responsibilities this season, in positional battles, or have otherwise have something to prove.
Adeoye (0/0): He was flagged for roughing the passer on a simultaneous QH with Wormley (Q3, 2:42) on McCown's TD pass to TE Alex Ellis. It appeared to be a poor call as Sandusky and Billick opined, but if either was to be called, it appeared Wormley may have led with his helmet to McCown's chest.
Alaka (-1/+1): He took a step back after a fine game against the Packers. Of his 3 tackles, only 1 was a win by the FO definition. He otherwise is in my notes for being unable to get off blocks on a screen pass (Q3, 4:10) and 2 runs.
Averett (+1/+2): Anthony had a stint at SCB which may be an indication he'd be the first up there if there is an injury to any of the big 3 CBs. He drew an OPI on a pick play (Q3, 9:39) and was twice close in coverage on incomplete passes (Q2, 14:09 and Q4, 15:00). While two of the other corners (SJB, Canady) had tough nights, he took a step forward.
Bethel (-1/+1): He entered at CB for the game's final drive, but did not make my notes. The combination of the team's reduced depth at CB, the greater defensive contribution of Trawick, depth across the roster, and the looming compensatory-pick decision (by week 9) have reduced his chances to make the roster.
Board (0/-1): DNP. I saw reports he was on the field during warmups, which can't be a bad sign. He has 17 days before the opener, assuming he sits out the 4th PS game.
Bonds (0/0): Terrence entered for the final drive.
Bowser (+3/+3): Both Martindale's usage of him and his results point to a big role in 2019. In terms of usage, he was inserted as the rush LB opposite Judon on the first 2 drives. Since Bowser and Judon are both Sam LBs known for their coverage skills, each would typically be paired with a rush LB such as Williams, McPhee, or Ferguson. However, inserting Bowser with Judon gives the Ravens more coverage flexibility, which ultimately offers more pass rush flexibility to generate a fast blitz pressure. In terms of play notes:
(Q1, 6:25): Monolithic RT Jordan Mialata (6'8", 346 lbs) lined up illegally in an attempt to protect against Bowser's speed rush

(Q2, 11:34): Tyus easily bounced off the shoulder block from RB Corey Clement for a 3-yard sack

(Q3, 11:01): He held the right edge vs RT Mialata to force Josh Adams inside for RM2

(Q3, 4:17): He drew a holding flag on the Eagles 1st-round draft pick, LT Andre Dillard

(Q3, 4:10): He and Daylon Mack failed to diagnose the screen left to Adams which went for a gain of 18
He saw rotational action until the last drive of the abbreviated game.
Canady (-2/0): Maurice had a tough night, primarily at RCB. Summarizing:
(Q2, 6:29): He became entangled with Cyrus Jones on a 10-yard completion to WR Arcega-Whiteside

(Q2, 3:51): He lost WR Carlton Agudosi outside for a 14-yard completion

(Q2, 3:36): Maurice was flagged for defensive holding on Agudosi

(Q3, 12:10): He was close to an interception on a poorly thrown pass caused by pressure from Williams

(Q3, 5:06): He allowed a 35-yard conversion (11 + 24 YAC) on 4th and 2 to Arcega-Whiteside

(Q3, 2:45): He appeared to follow the wrong player as the Eagles had 2 receivers and only Elliott on the left side of the end zone on the ball dropped by Adams at the goal line
Clark (0/0): He played a snap of big nickel with the starters then free safety with Elliott for the remainder of the first half. He and Elliott had good bracket coverage of McCown's third-down incompletion intended for Perkins (Q2, 14:04). He was beaten by a well-thrown ball to Agudosi where he was just late to undercut the route on a 15-yard play (Q2, 5:09).
Ejiya (0/-1): DNP on defense. He's one of several Ravens who lost a chance for some film to the weather.
Elliott (0/+2): DeShon had a mixed game for results, but continues to get opportunities for an expanded set of backup roles. He played both SS and FS, but did not get a chance to play SCB as the Ravens did several years ago with SS Matt Elam.
(Q2, 14:51): He pursued well to the right edge to tackle RB Clement for a gain of 2

(Q2, 14:04): He had the back end of bracket coverage on McCown's incomplete for Perkins

(Q2, 3:29): He missed a tackle on WR Arcega-Whiteside, who was quickly taken down by Mack for a gain of 3

(Q3, 12:40): He was unable to provide underneath help in zone coverage of WR Mack Hollins who caught an 11-yard pass by the right sideline

(Q3, 11:27): He was flagged for lowering the helmet on what was clearly a clean shoulder hit. I have watched both the Eagles and Ravens broadcasts for the game and the Eagles crew was more upset with the flag.

(Q3, 7:17): He overran a low pass to Arcega-Whiteside, which allowed the receiver to pick up 7 yards

(Q3, 3:28): He filled quickly to tackle Josh Adams for RM2
Ferguson (-1/+2): DNP. To my knowledge, the extent of Jaylon's injury has not been revealed. I think there is a good chance we won't see him prior to week 1 and we'll be in the dark about his situational usage until then.
Grigsby (0/-1): He played one drive of the 3rd quarter next to Alaka at ILB. The Eagles scored on the drive and it included an 8-yard pass to Greg Ward on which Nicholas was soft.
Jackson, Bennett (-1/0): He was beaten over the top by TE Alex Ellis for a 9-yard TD between the posts (Q3, 2:42).
Jean-Baptiste (-2/-1): He entered on the last drive of Q2 and played through the end of the 3rd quarter. He was a little soft in zone coverage of WR Mack Hollins (Q3, 12:40) for a gain of 11. He was beaten by WR JJ Arcega-Whiteside for a 20-yard TD (Q3, 9:34). He also registered a nice PD on a slant and was flagged for illegal use of hands (declined).
Jones, Alvin (0/+1): He remains behind Alaka and played just 1 series in this game when the lightning came.
Jones, Cyrus (+2/+2): He took a step forward while other CBs took a step back. He slipped past the block of WR Mack Hollins to knock down a WR screen right 4 yards in the Eagles backfield (Q1, 2:47). When Martindale called an 8-man blitz (Q2, 2:00), Cyrus was left to cover WR Greg Ward between the hash marks on 3rd and 17. He kept the play in front of him, allowed the completion for a gain of 11, then took down Ward immediately to deny conversion. He entered on the last drive of the first quarter and played the remainder of the half.
Marshall (0/0): DNP. He remains a factor to decisions regarding the slot, but he needs to get on the field or risk losing his rookie year to IR.
Mack (+1/+2): His highlight was driving back RG Stefen Wisniewski then shedding him to tackle RB Josh Adams for a gain of 2 (Q3, 8:01). He pursued well as a pass rusher and tackler, but also failed to diagnose a screen pass (Q3, 4:10).
Ray (0/-1): He entered on the last full drive of the 2nd quarter and registered just 1 pressure as I have it scored (Q3, 5:55).
Ricard (+1/+5): He and Tim Williams are competing for the preseason MVP. How did Patrick continue to exceed my expectations in this game? He started and played the entire game on the DL rotationally. He blew up a screen play by forcing an errant lateral that resulted in a loss of 10 and flattened Kessler in the process (Q1, 7:49). He beat C Nate Herbig through the right A gap for the QH reflected on the stat sheet (Q2, 3:51). While it's nice to see Ricard get the opportunity to play earlier and remain effective, I don't believe he'll have a big role on defense in 2019.
Sieler (-1/-2): On a night where the Ravens were short-handed on the defensive line without Gerald Willis or Brandon Williams, Sieler did not make an appearance until the final drive of the game. He penetrated the backfield effectively, but awkwardly (Q3, 0:24), which allowed Tim Williams to tackle Josh Adams for a gain of 1. His roster spot is in jeopardy and he needs to play well in an extended opportunity in the preseason finale.
Stewart (0/-1): DNP.
Trawick (0/0): He played the dime for a handful of snaps in the 2nd quarter, but did not have another stint at SS as he did against the Packers.
Williams, Tim (+1/+3): He entered on the 3rd drive and played rotationally to the end of the game. He had 1 QH, 3 other pressures, yet another pressure negated by penalty, 1 near PD (became a PD by Jones), 1 run tackle for a gain of just 1, and 1 nice edge set vs. Zach Ertz (Q1, 3:58). He also caused LT Andre Dillard to be flagged for illegal formation in deference to his speed rush (Q2, 5:35).
Willis (-1/-1): DNP. The defensive line is a deep group Willis now appears to be on the outside. IR is a possibility as is a trade.
Young, Kenny (+1/+2): He started next to Onwuasor then took over the green dot when he departed after the 2nd Eagles drive. He's playing fast and his share of WLB snaps should be as significant as was Peanut's in 2018 (42%) if not more.
Defensive MVPs:
Tim Williams

Tyus Bowser

Cyrus Jones