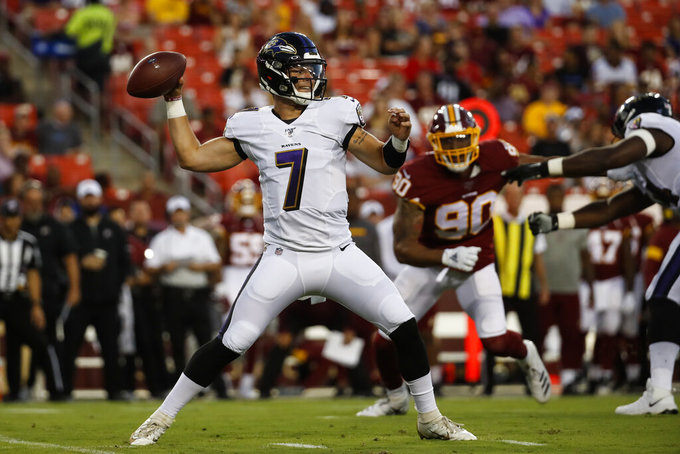 Offensive Line Remains Unsettled as Ravens Extend Streak
I'll produce a roster prediction later today, but the offensive line had the most competition in the preseason finale.
Here are the offensive linemen by series:
Notes on the OL rotation:
The Ravens sat 4 linemen for the finale, Stanley, James Hurst, Skura, and Yanda. G/T Randin Crecilius, who did not play in the preseason also sat.

Orlando Brown is in no danger of losing his starting role, but was forced into action due to a lack of depth at tackle for the game.

The starter treatment for James Hurst was modestly surprising. It appears he will start the season at LG, which is certainly better than him playing LT, but still represents a fallback option rather than the optimal outcome. With the Ravens shorthanded and James nominally a swing G/T, I would have expected him to dress.

Ben Powers, who started at LG and played into the 4th quarter, was called twice for holding. The first (Q2, 4:49) came on an inside-the-frame block vs DT JoJo Wicker where the defender may have slipped as Powers kept him at arms length. More troubling than any individual call is the damning consistency of 4 holding flags in the last 3 games. He otherwise looked good versus the Packers and Eagles. I continue to believe there is a good chance he'll start in 2019, but it does not appear that will happen in Miami.

Based on my notes, Bradley Bozeman stayed out of trouble for the most part excluding a missed pull that blew up a run play for a loss (Q2, 13:14) and an awkward whiff in level 2 on a screen left (Q2, 0:44). Despite the fact I'm focused on pressures for pass plays and lead blocks on run plays, I have found it dangerous to estimate overall performance without block-by-block scoring. Bozeman reentered as an in-line TE for 3 goal line plays in the final minutes and made an effective block each time, including opening a small crease through which Turner pushed for the final TD.

Patrick Mekari started at C and made 3 position switches (see above). He was a college LT, but his arm length listed on NFLDraftscout.com is only 31 5/8", which would be the shortest I've ever heard of for a recent NFL tackle and 4 inches shorter than Ronnie Stanley. Wherever he plays on the offensive line, I expect savvy NFL defenders to try to exploit his lack of length, but the problem will be magnified at tackle. Other than a mix-up over responsibility for a blitzing LB with Tyler Ervin (Q4, 13:08), I have only positive run-blocking notes for him.

The Ravens backup LT problem deepened over the last week. James Hurst played poorly vs the Eagles, which is consistent with his previous LT experience. Jermaine Eluemunor, who was a competent backup LT for approximately 1.5 games in 2018 and played well against the Packers on 8/15, was traded. Greg Senat played the first half at LT vs. the Redskins and was flagged twice for holding in addition to at least 2 other pressure events (Q1, 4:59 and Q2, 12:09). In their desperation, the Ravens played Mekari at LT for 2 late series without incident.
Trading Eluemunor
This seems like a reasonable time to talk about the value of the Eluemunor trade. Per Adam Schefter, the Ravens will get the Patriots 4th round pick in 2020 in exchange for Jermaine and the Ravens 6th round selection. Assuming the Patriots draft last in round 4 and the Ravens 22nd in round 6, factoring for comp picks expected by OTC, and valuing per the JJ chart, the Ravens pick up approximately 26 points of JJ draft capital, which is approximately equal to pick number 166 in the draft. The 166th pick should be approximately the 19th in round 5, based on OTC projections of comp picks in 2020.
So, it's fair to term the Eluemunor trade as returning value equivalent to a pick in the middle of the 5th round.