The Ravens gave 4 competitors for starting interior OL spots extended trials on Thursday vs the Packers. Here's how I scored them.
Scored snaps exclude accepted penalties resulting in no play. Although there were none in this game, they also exclude kneels, spikes, and special teams plays that result in a run or pass.
Eluemunor: Jermaine had his best game as a Raven. He began with a 20-for-20 blocking performance at LG, where he moved well, connected on all 5 pulls, and made 2 blocks in level 2. Since the 4 lineman scored here totaled 19 pulls among 131 snaps at G (a significantly higher rate than would be employed normally), it's clear the scheme was developed to test these players in particular. Not all of Jermaine's pulls allowed him to perfectly conserve momentum, but he turned as necessary to find work and helped lead plays for 7, 12, 3, 5, and 13 yards (8.0 YPC). After 2 full drives at LG, he moved to LT, where he anchored the pass blocking for the rest of the night. He did not surrender a pass blocking event of any sort and had enough lateral quickness to push his assignments past the "back pylon" of the pocket so they were unable to turn back to the QB to generate pressure. Of his 2 missed blocks,1 was a failure to maintain a block on a pass that was out quickly. The other was a failure to find a block on a run right. He had 4 blocks in level 2 and delivered 1 pancake. His highlight was a pull to drive back LB Blake Martinez 4 yards in level 2.
Scoring: 57 plays, 55 blocks, 2 missed, 55 points (.96 per play). That's an A.
Mekari: Patrick entered at LG for the 3rd series, had 21 of his 37 snaps there, and finished with 16 snaps at C. He was shed by DT Kingsley Keke, who took down Dixon for a loss of 1 (Q2, 5:33). He made 3 of 6 pulls, with misses including a whiff on LB Curtis Bolton (Q2, 9:20), a slip entering level 2 (Q2, 0:15), and an inside loss to LB Ty Summers (Q3, 4:44). His 2 other misses were losses at the LoS, 1 on a pass and 1 run. On the plus side, he did not have a pass blocking charge of any sort. He made 2 blocks in level 2 and had 2 pancakes. His highlight was extended blocking on the pass which McSorley had 9 seconds before throwing incomplete (Q3, 9:41). On that play, Mekari ended up blocking by the left sideline and was able to knock his opponent to a knee during the extended play.
Scoring: 37 plays, 31 blocks, 5 missed, 1 penetration, 29 points (.78 per play). That's a C- at the weighted combination of center and guard.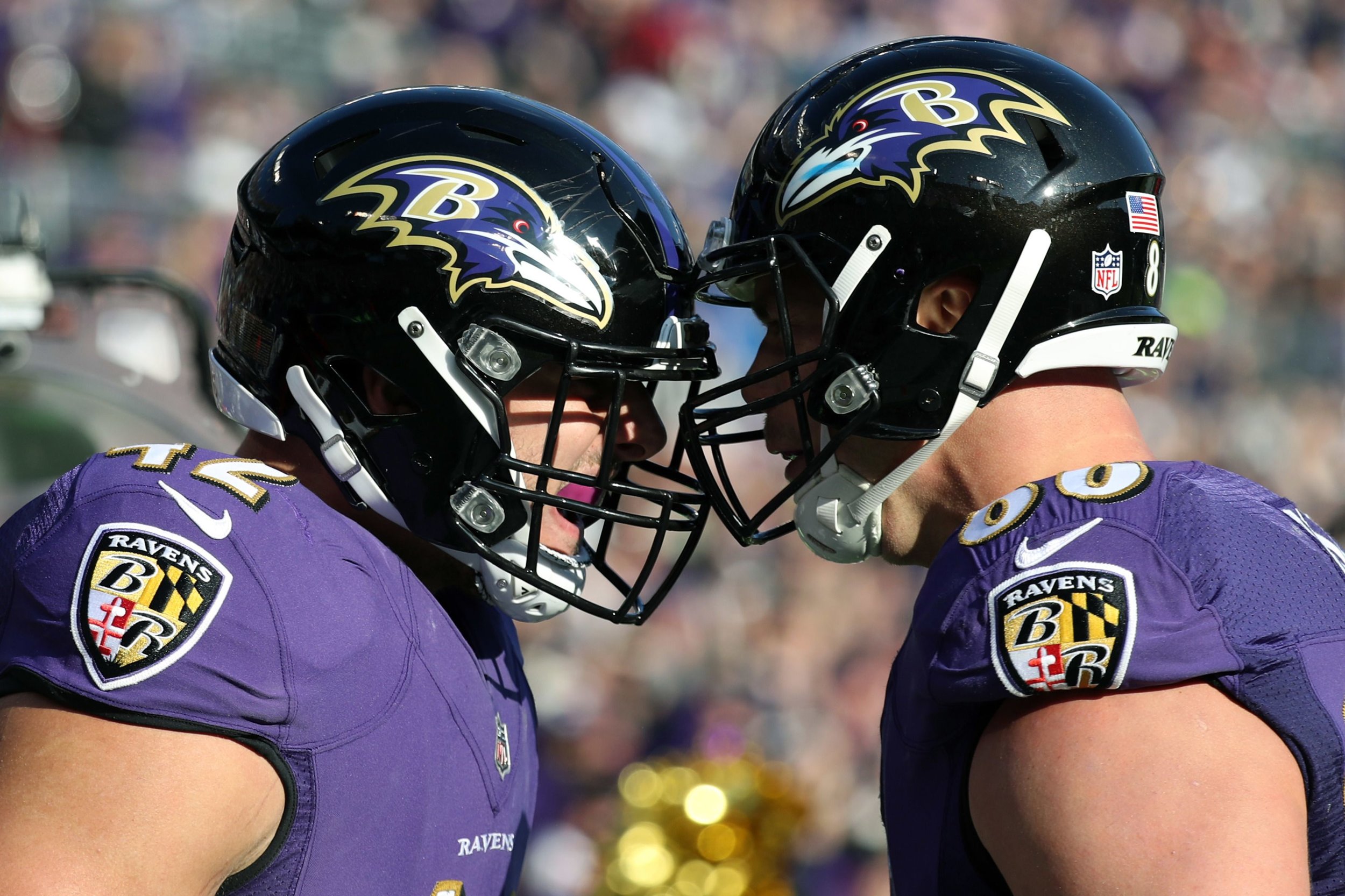 Bozeman: Bradley was very outstanding both at C (21 snaps) and RG (16). He did not have any pass or run blocking charges, nor was he penalized. His highlight came on Patrick Ricard's 4th-and-1 conversion (Q2, 6:50) when he stepped over a submarining DT (can't catch the number) to get a rare L2 block on a dive play. Whether at the goal line or in other short-yardage situations, a defender will often give himself up to create a pile and possibly take out 2 blockers in the middle of the line. Bozeman's alert play left Mekari on top of the defender while he obstructed a LB Bolton's path to Ricard. He finished with 2 blocks in level 2 and made both of his pulls. Of his 3 misses, 2 were of the less-serious variety in level 2 and 1 was a loss at the LoS.
Scoring: 37 plays, 34 blocks, 3 missed, 34 points (.92 per play). That's at the bottom of the A range as weighted for position and without adjustment.
Powers: Ben had an effective performance despite a ticky-tack holding call. He was beaten by a spin move inside (Q3, 10:02) by DT Montravius Adams. McSorley evaded the pressure by Adams, but Powers put his hands on Adams back, which may have been pre-emptively flagged. He made his other blocks including 1 in level 2, 2 pancakes, and all 6 pulls. I did not score him for a highlight.
Scoring: 37 plays, 37 blocks, 1 offensive holding, 31 points (.84 per play). That's a B. Had the hold gone unflagged, and instead been a pressure, his game would have been in the middle of the A range.