In addition to improved accuracy, the Ravens ran at least 3 boots and in each case, Lamar waited to pass rather than run. In fact, it appeared he had been instructed not to run the football.
Aside from this apparent constraint, the formula the Ravens used to win was similar to that used throughout the second half of 2018 when they ran effectively to help dominate offensive snap count and leaned on their fresh defense to control the game.
The defense not only provided a pick-6, but provided consistently good field position.
Depth Charging
The most significant indication of roster decisions during the preseason is the order of entry.
Notes on the OL rotation:
Marshal Yanda sat out of this first game and I don't believe he will play much this preseason both to safeguard his health and provide more snaps for the other interior offensive linemen where competition is fierce.

Jermaine Eluemunor played the entire first half at LG and did not score well (see individual section for summary). I expect we'll see Powers have a chance to start at some point to get first-team reps.

Greg Senat was effective other than the holding penalty which negated Boykin's TD catch at the end of the half (see individual section for summary). As they did with Nico Siragusa last season, this appeared to be a game where the Ravens sought to get a lengthy evaluation of Senat after he missed the 2018 season.

The debut of Ben Powers went well with no penalties, no pass blocking errors, and just 2 missed run blocks as I scored it. He maintained his blocks well and I think it's possible he'll get a chance to play with the 1s vs Green Bay.

As a team, the Ravens generated ample time and space (ATS) on just 11 of 33 plays. Not all of that was failure of the offensive line, however, because the Jaguars schemed for an unblocked pressure on 7 occasions.

It's not implausible that the pressure schemed by the Jaguars was retribution for the hit on Minshew. Young put the big hit on the Jags backup QB midway through the 2nd quarter (Q2, 7:03). To that point, the Ravens had faced just 1 unblocked scheme blitz on the first 10 pass plays. After the hit, the Jaguars schemed for an unblocked rush on 6 of 23 Ravens pass plays. It's not hard to imagine words like "The gloves are off" being uttered by Marrone over the headset loop following Young's planting of Minshew.

To go a step further, it's unusual to see so much pass rush scheme of any sort in a preseason game. Yes, teams want to test concepts, but they are also very tight with their playbook.

Bradley Bozeman had playing time at C and RG, as did Patrick Mekari. Mekari is a good candidate for the practice squad and has displayed consistency on shotgun snaps in camp. Bozeman was among the NFL leaders in snaps played in the 2018 preseason. I expect we'll continue to see Bradley get more time at both positions.
Individual Grades and Notes
As in past years, I have given each Ravens player a grade from +3 to -3 reflecting how much my expectation of their impact on this year's team changed based on their performance (game grade before the front slash, cumulative grade after). I don't rate starters, players who have no place on the team, or anyone for whom I don't think I have any data for a judgment. The players here are new to the team, rookies, on the cusp of making the team, have new responsibilities this season, in positional battles, or have otherwise have something to prove.
Applefield (0): He played the last series at LT, but did not make my notes.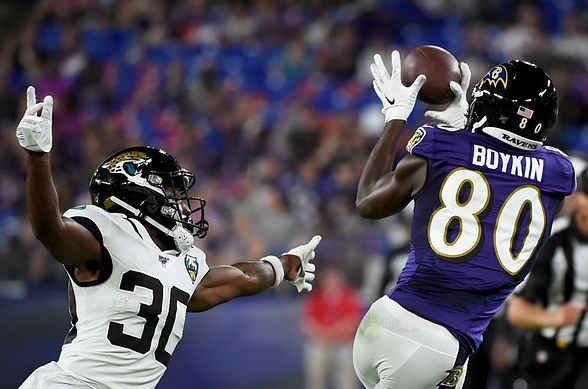 Boykin (+2): In several this game was analogous to Miles' draft day assets. Boykin had some success receiving in his final season at Notre Dame, but he was drafted as early primarily for his outstanding combine measurables. This was a game where we got to see a flash of what Boykin can provide the Ravens with plenty of warts to go with it. Let's review:
(Q1, 7:15): He was unable to adjust to Jackson's slant thrown behind him, 7 yards [2]

(Q2, 11:31): Miles boxed out for PR7 (6 + 1 YAC) [5] with strength to stretch for marker

(Q2, 10:20): He released L2 run block before it became IBW on Dixon RR16

(Q2, 7:59): He was stripped on slant 5 yards [2]

(Q2, 1:22): He was unable to haul in pass off finger tips 6 yards [1]

(Q2, 0:45): He failed to prevent INT Hayes 6 yards [1]

(Q2, 0:20): He box out the defender on slant PL7 (6 + 1) [2]

(Q2, 0:16): He adjusted to back shoulder for PL24, then fought to get OOB

(Q2, 0:11): He separated from Hayes in EZ for PL17 TD [1] negated by OH
The gifts were obvious, but the results were only OK. Who was the Ravens last young receiver to flash this sort of upside as a rookie? Perriman missed the 2015 season, so some might say Mark Clayton, Demetrius Williams, or even TravisTaylor. If we're lucky, Marquise Brown will be the next.
Bozeman (0): See notes above. I did not score his game individually (Only Senat, Eluemunor, and Powers), but I did not record a pass blocking error in my notes.
Brown, Marquise (0): DNP. As I write this, I'm seeing tweets that he is participating in 11-on-11 drills for the first time.
Callahan (0): It's nice he's taking some snaps and getting some film. I don't see how he's a candidate for the practice squad if the Ravens keep 3 QBs.
Dixon (0): As a runner, he looked solid with 5 carries for 21 and made good use of a gaping hole to run right for 16 (Q2, 10:20). He did not haul in a pass that effectively was grounded near the LoS. His pass blocking continues to be an issue, including a missed cut on OLB Josh Allen (Q2, 11:37). Like all 4th-year, he's fighting for a roster spot against players with more option value (team control).
Eluemunor (-1): Jermaine was ineffective as the starting LG. He was bulled twice for shared pressures and failed to pick up DE Smoot when he stunted for a QH (Q2, 7:20). He missed 6 blocks in 35 scored snaps, but remarkably the Ravens piled up 66 yards on those plays. He made 2 blocks in level 2, delivered 1 pancake, and connected on 2 of 3 pulls. His highlight was a well-maintained pull vs LB Goode in level 2. Scoring: 35 plays, 26 blocks, 6 missed, .83 (1/2 + 1/3) pressures, 2/3 QH, 22.33 points (.66 per play). That's a high F at guard.
Jermaine is getting his chance at the starting LG spot based in part on size, but he is not using that asset to move or even wear his opponents as Powers did in this game.
Ervin (0): He played late and did little as a runner (4 carries, 5 yards), but he did have 2 punt returns for 24 yards. He remains a long shot to make the roster, but may land on the practice squad.
Ezeala (0): He played just 3 late offensive snaps and 3 others on special teams. Because he's a fullback, it may be difficult for the Ravens to find room for him on the practice squad.
Floyd (0): He positioned himself well to draw the 34-yard DPI on Borders (Q3, 13:45). He was not otherwise targeted in 30 offensive snaps. He had a tackle on special teams as well.
Herdman (0): The UDFA TE was targeted once for an 8-yard gain among 24 offensive snaps. Barring injuries, he's simply creating some tape.
Hill (+2): The Ravens need to find ways to make their 2019 offense less about how Lamar Jackson beats the edge defender using the read option and more about getting the ball into the hands of other playmakers in space. Justice Hill was drafted for this purpose and his debut did not disappoint:
(Q2, 1:17): He collected McSorley's pass 3 yards behind the line of scrimmage, between the numbers and right hash and outraced LB Connor Strachan then juked CB Quenton Meeks for 17 YAC

(Q3, 6:17): Justice ran through an arm tackle by CB Tae Hayes, RM6

(Q4, 12:11) He displayed his fast cutback ability to make use of a big hole created by Senat's seal on DT Lyndon Johnson
Horn (0): He was not targeted in 6 offensive snaps during the 4th quarter.
Hurst, Hayden (0): He played 16 snaps and was targeted just once on a ball that was off target near the LoS. By comparison, Boyle played 17 snaps and Andrews 18, so it appears Roman is trying to get each some playing time. All 3 retired by halftime.
Hurst, James (0): He started at RG and played 3 series/16 snaps including a pressure surrendered by bull rush (Q1, 7:49).
McSorley (+2): His passer rating wasn't impressive, but he had ATS on just 7 of 22 throws, including 5 unblocked pressures. That's a lot for a rookie to face and he weathered it well. His rainbow drop TD pass to Boykin was negated by penalty. He was also accurate on 3 of his longer, sideline passes including receptions by Boykin and Scott as well as the pass interference drawn by Floyd.
He missed an opportunity to score his first NFL touchdown by run when he passed open an open right side of the field to throw incomplete for Turner between the hashes (Q3, 11:09). He otherwise ran the ball well, including boots and read action fakes. Perhaps most impressively, Trace ran the no-huddle offense seamlessly and drove the team 31 yards in 19 seconds at the end of the half.
He'll continue to get lots of valuable playing time as the preseason progresses, but I think the Ravens may have seen enough already to know they'll have trouble keeping him on the practice squad.
Mekari (+1): He and Senat were the 2 fringe OL to play well. Mekari had more than 50 snaps split between C and RG and did not allow a pressure as I scored it.
Modster (0): Sean had an electric conversion on 3rd and 12 (Q3, 12:58) which required him both to elude a tackle from S Andrew Wingard and absorb a hit to reach the marker.
Moore (+1): Chris had a fine night in just 24 offensive snaps:
(Q1, 12:53): He found himself wide open on a boot right and Jackson hit him in stride for a 30-yard gain (14 + 16 YAC) by the right sideline

(Q1, 2:44) He drew a 17-yard pass interference on Jackson's cross-field pass

(Q1, 2:33) He continued to demonstrate the catch radius that defined his 2018 season with a fine grab falling away from a low throw for a gain of 18 on the left sideline.
Powers (+1): Ben had a debut that included no pass-blocking failures. He also made all but 2 run blocks, but only one of those was a failure at the line of scrimmage when he was driven backwards by DT Michael Hughes to force Ervin wide for no gain (Q4, 10:30). He did not have a block in level 2, but he delivered a pancake on a defensive lineman, which is unusual. A significant difference between Powers and Eluemunor is the will to maintain blocks to the whistle. That was visible in spades during his time at Oklahoma and it's nice to see that's the norm for him against players competing on the fringe of the NFL. In a night characterized by well-maintained blocks, his highlight was a 10+ yard push of DT Andrew Williams (Q3, 13:38). Scoring: 29 plays, 27 blocks, 2 missed, 27 points (.93 per play). That's an A without adjustment, which is probably appropriate given the level of competition.
If you weren't excited about Powers before, it might be time to start.
Prince (-1): He played the first 4 series of the 2nd half at RT and surrendered 2 pressures as well as a miss on a run play. Given his point of entry, he may be a candidate for the practice squad.
Ricard (+2): He played with the starters on offense and was used in a variety of alignments. That speaks volumes to the likelihood he'll be part of Roman's offense. His accomplishments on defense were far more impressive, but I'm going to keep his writeups on the offensive side for the remainder of the preseason.
Roberts (0): He was not targeted in 12 snaps, but he set an effective pick on Snead's touchdown which took out CB Tre Herndon.
Scarff (0): He was targeted 3 times in 29 snaps without a completion. He was stripped by LB Ramik Wilson (Q3, 13:05), but both other throws were off target.
Scott (+1): He caught a 25-yard, back-shoulder pass down the left sideline from Callahan and tapped both toes (Q4, 9:18). He also had a nice run block on the left sideline to extend Turner's 21-yard run. He's not at the top of the WR depth chart, but as a 2nd-year draftee, the team has 3 years of control near the league-minimum salary which gives him a reasonable chance to stick over a veteran like Floyd.
Senat (+1): Greg's solid game improved his roster chances. While people will remember him for the holding call which negated the TD to Boykin, he otherwise allowed just 3 partial pressures while leading the team in offensive snaps. He made 2 blocks in level 2, delivered 1 pancake, made his only pull (left from LT), and had 2 highlights, the best of which was a pancake of CB Picasso Nelson on a pull left (Q3, 6:00). Scoring: 54 plays, 48 blocks, 3 missed, 1.17 (2 x 1/3 + ½) pressures, 1 offensive holding, 39.67 points (.73 per play). That's a C at tackle.
Smith, Jaylen (0): He did not enter the game until the 4th quarter and played only 8 snaps with 2 targets and no catches. Both balls were overthrown by 5+ yards.
Turner (0): He juked past the DT Williams and used level 2 blocks from Senat and Scott to run 21 yards up the left sideline (Q4, 8:38). He had just 8 yards on 5 other carries and oddly decided to surrender a first down on a downhill run (Q4, 11:49).
Vahe (0): He played the last 2 series and did not make my notes.
Vedvik (0): The discussion of Vedvik's trade value is on everyone's mind following his big night, but I wondered why the Ravens declined to use him again on 4th and 16 (Q4, 2:00), which would have been another 52-yard attempt. Is it somehow a better gamble to have him try that kick in the next game when conditions may not be as optimal?
Wesley (0): He entered at the beginning of Q3 and played 18 snaps with 1 target. He appeared to collect the football near the right sideline, but was stripped by CB Hayes.
Williams, Darrell (0): He played the last 3 drives at RG (15 snaps), but did not make my notes for a negative pass or run blocking score.
Williams, Isiah (0): He played the last 2 drives and did not make my notes.
Offensive MVPs:
Chris Moore

Ben Powers

Miles Boykin