Breakdowns
In order to feel better about losing a big game to a divisional rival, it would be ideal if we could say the Ravens lost due to one bad call or one correctable play. As you know from watching the game, that is not the case and the breakdowns were numerous in a game where the Browns piled up 530 yards of offense.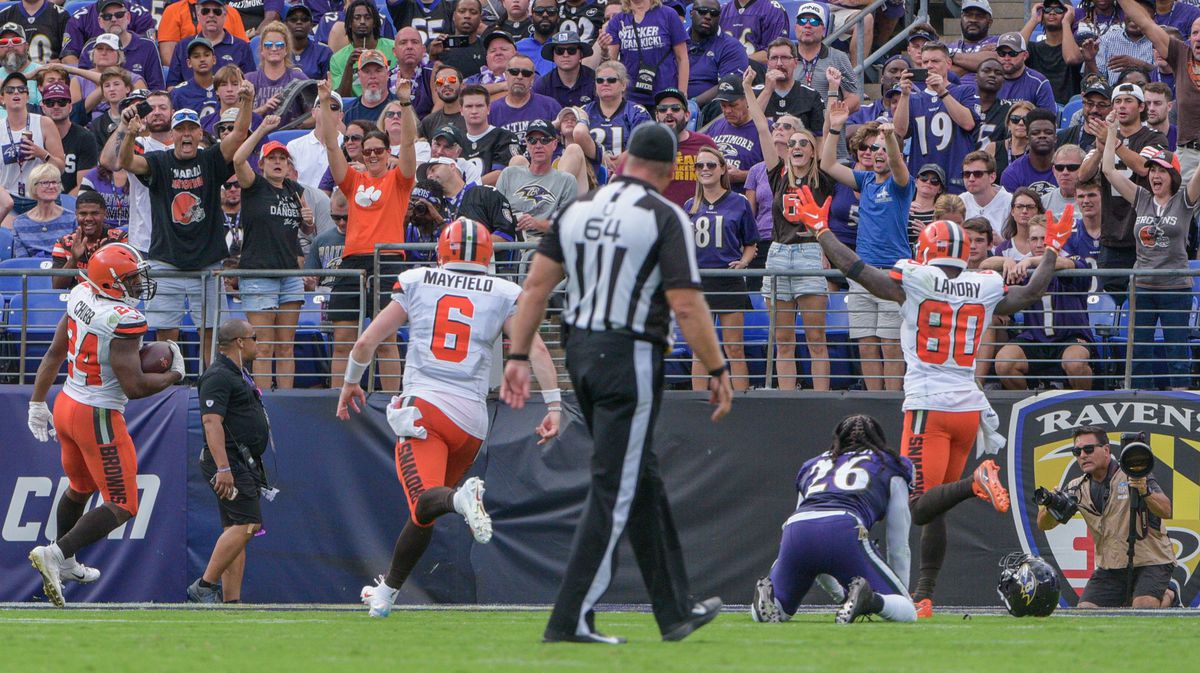 Under circumstances like these, I like to look at the plays that were most costly and look for common threads.
To summarize:
· (Q1, 11:21): Onwuasor bit hard on a bad PA fake and was beaten over the top in zone coverage. Mayfield to Landry pitch-and-catch PM16 (10 + 6) [3]
· (Q1, 10:00): On 3rd/7, Mayfield had ample time and space (ATS) vs. 5-man pass rush. Mayfield to Ratley PL10 (5 + 5) [2], Carr trailed
· (Q1, 7:29): Humphrey bad illegal contact vs. Beckham converted 3rd/13
· (Q1, 7:22): Bowser generated fast pressure on screen left. Mayfield to Chubb PM10 (-4 + 14) [2]. Pierce chased but was outran, Carr took poor angle to play
· (Q1, 4:58): 3rd/2, Mayfield ball out quick (BOQ) to Hilliard PR19 (2 + 17) [5]. Averett, Judon, and Young were all possible responsibility out of bunch formation, but none were within 5 yards as the ball was caught.
· (Q1, 2:57): 3rd/3, Mayfield had ATS vs. 4-man pass rush. Young was lost in coverage and left TE Seals-Jones wide open for PL9 TD (0 + 9) [2]. Young was approximately 12 yards away at reception.
· (Q2, 7:04): After a fake jet sweep Chubb, Mayfield threw to Landry PM18 (15 + 3) [3] behind Onwuasor in clear effort to target.
· (Q2, 1:46): On 2nd/10 with ATS, Mayfield to Landry PM65 (8 + 57) [4] with Onwuasor trailing. Humphrey failed to tackle, but forced the play inside. Jefferson delivered a big hit at 15 yards, but Landry spun free. Levine watched flat footed, and was then blocked by Hilliard, Beckham and Seals-Jones blocked Thomas. Landry ran out of gas, tripped, and was downed by Jefferson.
· (Q3, 10:33): 2nd/8 the 5-man pass rush with 2 blitzers generated modest pressure from Clark. Mayfield to Seals-Jones PR59 (21 +38) [4]. Humphrey and Jefferson broke on same hitch route. Thomas, Young and Humphrey were all 7+ yards from Seals-Jones at catch.
· (Q3, 9:49): LT Robinson sealed Wormley then blocked Onwuasor in L2, Judon contained left edge but failed to tackle Chubb at 4 yards. Chubb ran through arm tackles from Thomas, Carr, Canady to outrace defense for RL14 TD.
· (Q3, 6:11): Clark crashed right edge blocked by pulling LG Kush, Judon was sealed by TE Harris, TE Brown blocked Onwuasor in L2 to lead Chubb RR17.
· (Q3, 4:47): On 3rd/5, Levine lined up in press-man coverage vs. Seals-Jones wide right. Mayfield had ATS despite 5-man pass rush with stunts by McPhee and Onwuasor. Mayfield back-shoulder throw to Seals-Jones PR14 (11 +3) [5] beat Levine.
· (Q3, 1:56): 3rd/4, Mayfield faked hand off to Hilliard, faked jet-sweep to Beckham, then shoveled to Landry PM29 (-3 + 32) [3]. TE Harris sealed McPhee, Canady honored Beckham option outside, Jefferson took bad angle and was beaten cleanly to the outside. Elliott chased down Landry to tackle at 2-yard line.
· (Q4, 9:47): Chubb ran right for well-blocked 88-yard TD. TE Harris sealed Wormley, LG Kush pulled to block Bowser and caught Onwuasor as well. LT Robinson blocked Young in L2 who then took a poor angle after being slowed. Jefferson overran the play to the outside, Thomas was much too slow to catch Chubb and pulled up at midfield.
Notes:
· The Ravens pass rush did not get the job done on these plays with only 1 pressure on a screen pass, plus another on a blitz from Clark. Mayfield had been ineffective throwing under pressure in Cleveland's first 3 games, but he did not have to work hard to find space, even when moved. After Bowser's sack on the Browns 3rd offensive play, he was not knocked down again.
· There were busted coverages aplenty. Enough said.
· The ILBs were again beaten badly in coverage. In fact, they were targeted both with crossing routes in level 2 and in the space between levels 2 and 3. The league is now aware of the coverage skills of Onwuasor, Young, and Board.
· Angles to the play were even worse than tackling, which was quite bad.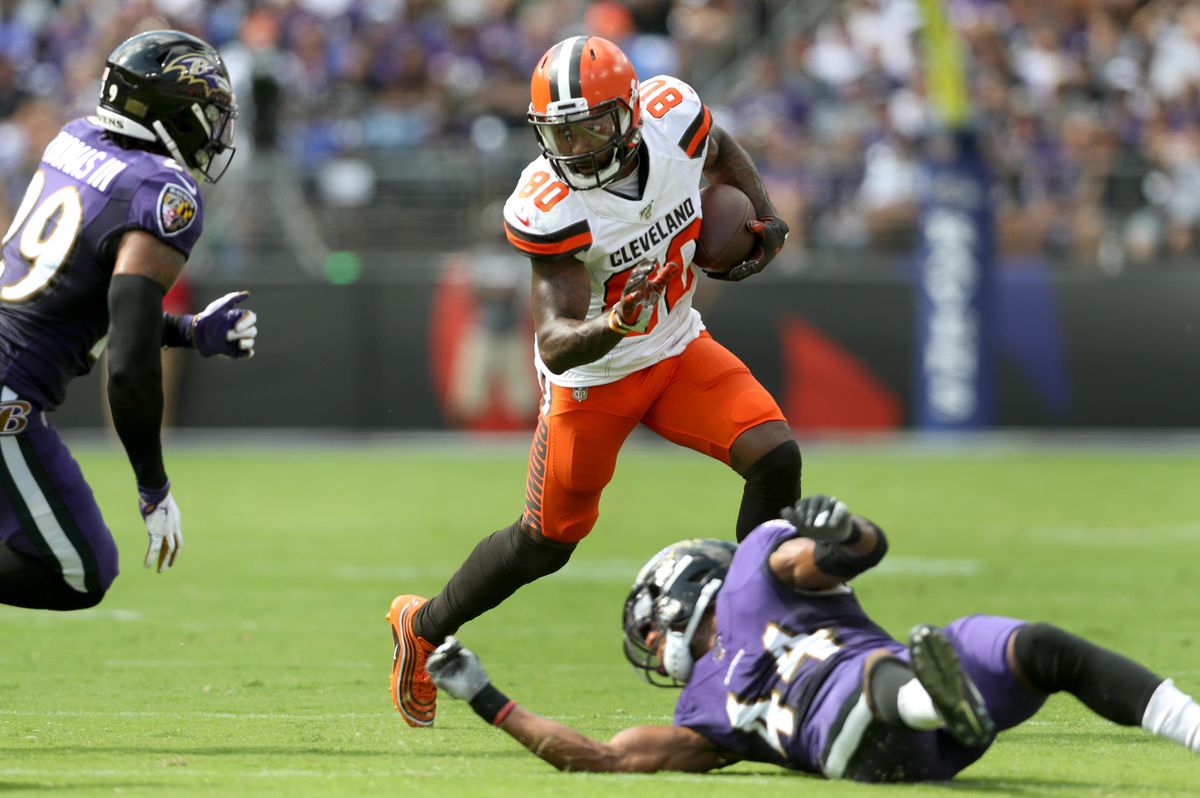 · The Ravens don't diagnose screens like they used to. The team needs their outside linebackers to sniff these out.
· The Browns big run plays were well-blocked and often used right-handed power concepts, but they also got excellent back-side contributions from LT Greg Robinson. The Browns had too easy a time using TEs to block either OLBs or defensive linemen to lead run plays.
· The defensive holding call on Marlon Humphrey was the only truly costly penalty of the day called on the Ravens.
Personnel Changes
Note: all snap totals exclude penalties resulting in no play, kneels, spikes, and specials team plays resulting in a run or pass. As such, they will be lower than other published totals.
· Martindale moved the green dot moved from Onwuasor to Jefferson. Initially, this seems to be advanced as a means for Peanut to focus on his own responsibilities. However, I believe the more significant value is to allow for substitution in obvious passing situations, since the player with the green dot can't easily be removed from the game. A possible tonic for the Ravens inability to cover the middle of the field is the quarter defense, which would include safeties patrolling both ILB spots. The Ravens didn't do that against the Browns, but they reduced Onwuasor's snap load to 54 of 60 snaps.
· Many folks have been calling for more playing time for DeShon Elliott. He was inserted as an ILB in dime packages, but the downs and distances he played were more like those of a normal ILB instead of a pass defense specialist (like Levine). Elliott lined up to play 9 snaps (including 2 penalties, the down/distances were 1/10, 1/10, 2/10, 2/5, 1/10, 1/20, 1/20, 2/15, 3/3). He looked to be playing fast, which is what the Ravens have seen from each of their ILBs, but he should also add ball skills and coverage/pass rush flexibility.
· The Ravens started Anthony Averett at RCB in the nickel, but for the second consecutive game, they moved to Maurice Canady when Averett struggled. This time Canady collected a diving interception on his first series to set up the game-tying TD drive. He added a PD later and was the best Ravens defender on a bleak day.
· The DL was overworked in the absence of Brandon Williams. Pierce (48 snaps), Wormley (41 snaps), and Ricard (30 snaps), did not get much relief from Mack's first activation (8 snaps). For the game, the Ravens played 127 DL snaps (2.12 per play) which is sharply higher from the first 3 games (1.80) due to higher usage of base and goal line defenses (see below).
Packages
· Dime (23 snaps) included both Levine (more extreme passing situations) and Elliott (see above) substituting for the WLB. The Ravens also played a 4-safety version of the dime, once with Clark and Elliott and another with Levine and Clark.
· Nickel (23 snaps) included a mix of the Ravens standard nickel with 3 CBs (11 snaps), big nickel (10 snaps), and jumbo nickel (3-3-5, 2 snaps)
· Base (12 snaps) was used primarily while the Browns held the lead. Entering the game, the Ravens had played just 7 snaps of their base 3-4 for the season and allowed just 1 yard on those snaps. On Sunday they allowed 149 yards on 12 base snaps (12.4 YPP).
· Jumbo was used on 2 goal-to-go situations, both of which resulted in touchdowns.
A Trade Solution
There isn't a single player who can fix the Ravens defense, but the Ravens do have the essential ingredients to make an in-season move, draft capital and cap space. One could advocate for a move at DL (interior pass rusher), OLB, ILB, or CB. However, it's not clear to me that any single move will create a contending defense and the Ravens may do better to stand pat.