Looking in the Mirror
The Ravens played a slightly different version of themselves and won a game they dominated by just 6 points.
Once again, the Ravens won snap count 72-54.
They won special teams with 3 long FGs (including a 51-yarder), outstanding kick/punt coverage, and a pooched kickoff to the corner which backed the Cardinals up to their own 6-yard line late in the first half.
On defense, they did a lot of things right, including:
Allowing 3 of 12 conversions on 3rd or 4th down

Allowing 20 yards on 11 carries (1.8 YPC) the week after they allowed the Dolphins 21 on 12 carries (1.8 YPC)

Containing Kyler Murray on the ground (3 carries for 4 yards)

Generating pressure on Murray that included 3 sacks and 5 other QHs

Stopping the Cardinals 3 times inside the 10-yard line to force FGs.
Then there were the blown zone coverages. Let's review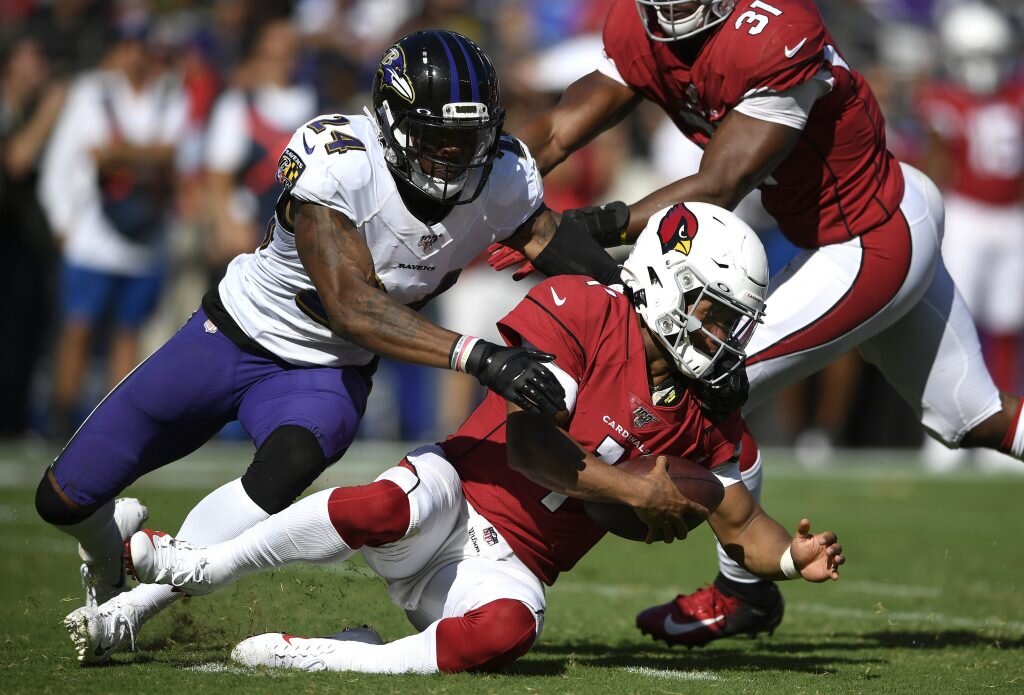 (Q1, 3:47): Averett bit on Fitzgerald's short route, leaving himself short on Kirk PR34 (28 + 6 YAC) by right sideline. Thomas was late closing over top.

(Q2, 13:40): Onwuasor and Board were beaten over the top by Kirk for PM26 (14 + 12 YAC) near the left hash.

(Q3, 12:28): Murray threw to the wide-open Fitzgerald PR40 (26 + 14 YAC) by right sideline. Fitzgerald followed clear out from R to L by Kirk to beat Jefferson going L to R. Onwuasor couldn't help in coverage, but both missed tackles to add YAC.

(Q3, 11:09): Humphrey was slow to collapse from deep right zone on Williams PR21 (19 + 2 YAC) between numbers and right hash. Onwuasor was beaten over top.

(Q4, 14:50): Carr blitzed off slot left opposite Fitzgerald as Murray rolled right. Murray threw PR54 (28 + 26 YAC) to Fitzgerald between numbers and right hash. Onwuasor and Board did not impact play as Fitzgerald crossed the field. Jefferson was 10 yards soft of catch after biting on route covered by Thomas.
These 5 plays accounted for 175 of the Cardinals 329 net passing yards. With the exception of Carr, every starting DB and both ILBs were involved in one or more of these breakdowns.
Inactive Questions
The Ravens again activated just 4 DL, including Patrick Ricard, but it was far less risky versus the Cardinals against whom they did not play a single snap with 3+ DL on the field. Similarly, they made do with just 8 total front-five (OLB + DL) players, because they never had a snap where more than 4 were on the field at once.
Daylon Mack and Jaylon Ferguson both sat again in favor of special teamers. While I would have enjoyed seeing Ferguson work against an offensive line in shambles, the Ravens had difficulty making situational substitutions due to the no huddle.
A New Scheme versus the Spread Offense
The Cardinals averaged 3.53 WRs per play and just 0.40 TEs per play in week 1. I have never seen offense personnel figures as extreme and there was mention on the broadcast the Cards had more 10 personnel packages (1 RB, no TE) than all other 31 teams combined in week 1.
As a response, Martindale split the defensive packages between nickel (28 snaps), and dime (25) with 1 spike.
The nickel snaps were each of the standard variety (3 cornerbacks, 2 safeties) with Carr at SCB and none of the big nickel (3 safeties, 2 cornerbacks) used against the Dolphins. The dime plays included 6 of the standard variety with Anthony Levine at dime (WLB), but 19 others with 4 CBs and 2 safeties. On the bulk of the 4-CB dime snaps, Thomas continued to play single high and Jefferson moved up to play next to Onwuasor.
The 4th CB added was Jones for 9 snaps (all in the first half) and Canady for 10 snaps, including the final 8 deployments. Jones may have lost the role when he failed to find the football in the air on a 13-yard pass to Byrd to convert 3rd and 6 by the left sideline (Q2, 3:23). I did not record Canady as the target on any throws.
Individual Notes
Note: all snap totals exclude penalties resulting in no play, kneels, spikes, and specials team plays resulting in a run or pass. As such, they will be lower than other published totals.
It was a game of contradiction between individual contributions and team results, largely based on the handful of blown zone coverages detailed above.
Michael Pierce (22 snaps) shed RG Sweezy to tackle RB David Johnson for no gain by the left sideline (Q1, 13:37). He beat LG Justin Pugh outside for a fast pressure where Murray grounded the ball into the butt of RG Sweezy, but was not called for intentional grounding (Q4, 3:48). He twice beat C AQ Shipley with minimal impact. The first came on a pass when the ball was out quickly for an 8-yard gain (Q1, 4:34). The second came at the goal line when he penetrated 2 yards into the backfield past Shipley, but Tim Williams failed to maintain containment and Brandon Williams was double teamed to open the hole for Johnson's TD (Q4, 12:54).
Team stats were bad with Pierce in the game (10.6 YPP, including yards per pass play), but I have a difficult time finding fault with his play.
Patrick Ricard (12 snaps) had a similar fate to Pierce. He provided front-side pressure on Judon's sack and split a sack with McPhee. He also had a nice hustle tackle on a 6-yard pass to Byrd after Jefferson missed the tackle (Q2, 12:43). Nonetheless, the Cards averaged 10.1 YPP on his 12 snaps.
Pernell McPhee (35 snaps) last played as many as 35 snaps in week 12 of the 2017 season (21 games ago for his teams). He has 1.5 sacks this season after a sackless streak of 25 games dating back to week 7 of 2017. If you needed more proof of his rejuvenation, look at his get off to beat LT DJ Humphries for a pressure (Q2, 14:02) or the double team he beat from C Shipley and LG Pugh to sack Murray (Q2, 0:39) or the back-side takedown of RB Johnson for a loss of 1 by the right numbers (Q3, 11:45). I want to believe it's 2014 again, and Pernell is giving us reasons.
Matthew Judon (43 snaps) led the OLBs in playing time. He had a fast-developing S-6 where he beat RT Justin Murray to go with 2 other QHs and 1 other pressure. I don't have any notes (positive or negative) regarding edge setting, but the Cardinals ran for just 16 yards on 9 run plays while he was in the game.
Tim Williams (22 snaps) took a step backward from his fine game in week 1. I did not score him for a single pressure event (18 pass snaps) and he lost the left edge on Johnson's TD run when he followed Murray's fake, which Thomas could have done alone.
Patrick Onwuasor (53 snaps) played the entire game with the green dot. In a game with few run plays, he had 4 tackles, but he missed a tackle on the 40-yard completion to Fitzgerald (Q3, 12:28) and looked unimpressive in coverage, including a mention in 4 of the 5 zone-coverage plays mentioned above.
To be clear, it's unlikely these plays were all Onwuasor's responsibility, but there is a damning consistency to his inability to contribute on pass plays behind him. When Levine is not on the field, the coverage weaknesses of the ILBs looms as a significant problem against the better teams in the league.
Brandon Carr (53 snaps) had an outstanding game at SCB. Summarizing:
(Q1, 14:07): He tackled Fitzgerald in open field for no gain between numbers and right hash

(Q1, 8:01): He blitzed off the slot and beat RB Johnson outside for pressure

(Q1, 4:03): He pushed Fitzgerald OOB on PL2 which converted anyway

(Q1, 2:59): He chased Byrd to tackle PL7 (-4 + 11 YAC) short of goal line

(Q2, 10:57): He failed to find ball in air on PR31 to Johnson by right sideline

(Q2, 8:38): He had tight coverage of Fitzgerald in end zone overthrown to deny 3rd/3

(Q2, 3:28): He had a diving PD in coverage of Fitzgerald 12 yards between numbers and right hash

(Q3, 9:11): He had tight coverage of Fitzgerald in end zone thrown OOB

(Q3, 9:06): He again had tight coverage of Fitzgerald on fade in end zone, INC

(Q4, 8:56): He blitzed unblocked off slot left to beat RB Johnson for S-7

(Q4, 3:48): He diagnosed WR screen right, to help force K. Murray to ground ball

(Q4, 3:29): He had coverage of Fitzgerald 25 yards down right sideline overthrown on Cardinals final play
Brandon signed a 4-year contract that was effectively a series of 1-year deals for approximately $6M each. Now 2 games into the 3rd season, his play has been a bargain by any objective standard and the team's final 2020 option appears to have significant value.
Marlon Humphrey (53 snaps) turned in a game of astounding big plays in addition to his role in some coverage slips (see above). Again, in racing form:
(Q1, 7:54): He collapsed off tight coverage of bunch right to tackle Johnson RM2

(Q1, 2:27): On 3rd/1, he jammed RB Edmonds in backfield then chased K. Murray to the right sideline to force throw away

(Q2, 11:28): He rushed up on Murray's stretch right, ran through the block of RT J. Murray, knocked back Edmonds, and forced K. Murray OOB for RR-3

(Q2, 3:05): He had tight coverage of WR Johnson 15 yards by right sideline thrown OOB

(Q2, 0:59): He had tight coverage of Crabtree 8 yards between numbers and right hash who did not extend with Jefferson closing, INC

(Q3, 11:09): He was slow to collapse to cover Williams PR21 (19 + 2 YAC) between numbers and right hash

(Q4, 13:47): He bit heavily on run fake to move across field, leaving Kirk wide open for PL18 (-5 + YAC)

(Q4, 8:26): He stripped TE Clay 3 yards between the hashes for PD

(Q4, 3:29): He worked off his own coverage underneath to help cover Fitzgerald 25 yards by right sideline, INC
Humphrey is using his physicality as effectively as I have ever seen from a corner, but he may need to learn to be more selective for longevity. Fortunately, the master of CB durability is his teammate Carr.
Defensive MVPs:
Brandon Carr

Pernell McPhee

Marlon Humphrey
Honorable mention to Matthew Judon.