Watercooler Talk
It'll be hard not to whistle around the office between over the next few days, but there is always "that guy" you see regularly at the watercooler who will try to make you feel like any accomplishment by your favorite team is meaningless. Worse, he consistently completes your sentences:
The Ravens scored 59 points…but it was against the Dolphins.
But they're an NFL team in a league where talent…means nothing if your organization is tanking for Tua.
But they set a team record for yardage…don't even think of counting that fake punt as "rushing" yardage.
But they set the record by 90 yards and Levine's run was only…save you breath.
At least you must be impressed with Lamar…Jackson? The RB who rushed for 7 yards?
That guy is still around, but he can't harsh your buzz this week. Put your earbuds back in and let the work week fly by with the Filmstudy podcasts. You've got bigger concerns like what jersey to wear on purple Friday and this week's survivor pick.
Winning by "The Formula"
The Ravens had consistently high offensive play counts throughout 2018, leading the league with 1,135 snaps, almost 4 per game more than the next-best Patriots (1,073). While offensive snaps were similar in games started by Flacco and Jackson, the offense and defense complemented each other well during Jackson's tenure as defensive snaps dropped from 64.0 per game to 56.9.
This formula is alive and well through 1 game of 2019 where the Ravens outsnapped the woeful Dolphins 73 to 47.
Winning snap count decisively in this game eliminated the risk of dressing just 4 DL and 4 OLBs in the Miami heat. The limited personnel didn't ever become a fatigue issue as the Ravens shutout the Dolphins in the 2nd half and allowed the Dolphins just 4 snaps in the 4th quarter.
Scheme by Usage and Success
Martindale did not reveal much in terms of surprise personnel packages in this game. To summarize:
· The Ravens lined up in their base 3-4 on just 6 of 47 snaps. The Dolphins gained a total of 1 yard on those plays (0, 4, -3, 0, 0, 0).
· Playing without Tavon Young, Martindale used Chuck Clark as a big nickel (safety lined up opposite the slot receiver) on 12 plays. The last time they used the package frequently was the 2018 opener vs the Bills (8 times). The Dolphins registered 67 yards (5.8 YPP) against big nickel, but those included Humphrey's interception.
· Martindale also deployed a conventional nickel with 3 cornerbacks on 13 snaps (70 yards, 5.4 YPP).
· The dime was the most regularly used package (16 snaps) and included either Levine (13 snaps) or Trawick (3) in the title role. The Ravens allowed jut 3.9 YPP in dime, including 3 sacks.
There are surprises remaining in terms of packages for future opponents.
Individual Notes by Positional Grouping
Note: all snap totals exclude penalties resulting in no play, kneels, spikes, and specials team plays resulting in a run or pass. As such, they will be lower than other published totals.
Defensive Line
Daylon Mack was inactive on the DL, leaving just 4 players to split the snaps, but given the Ravens big lead and resulting usage of the dime, the Ravens played just 87 individual DL snaps (1.85 per play).
Michael Pierce (25 snaps) had an outstanding individual game against the run with tackle contributions on runs for -3, -1, and 1. He also drew a holding call on RG Danny Isidora (Q3, 7:50, declined) as a pass rusher. Any fears of ineffectiveness accruing from his weight are gone after this effort under difficult conditions.
Patrick Ricard (10 snaps on defense) was used primarily as a situational pass rusher, including 6 snaps as the only down lineman with 3 OLBs. He contributed a cleanup QH (Q1, 2:29) and chased Fitzpatrick left to enable Onwuasor to close for his cleanup sack (Q3, 13:54).
Brandon Williams (23 snaps) Was every bit as good as Pierce dominating the line of scrimmage (LoS) against the run. The Dolphins gained just 51 yards (2.2 per play) on his snaps. He is being used in an increasingly specialized manner, playing each of his snaps on 1st or 2nd down (Pierce played once on 3rd down). The Ravens 2 behemoths played together on 15 snaps, something they did less frequently in 2018.
Chris Wormley (29 snaps) played in the base package, with Pierce or Williams individually, and lined up 6 times as the team's only down lineman. The Dolphins ran 7 times for -6 yards (-0.9 YPC) with Chris in the game. As a pass rusher, he delivered a fast QH when he bulled then shed LG Michael Deiter (Q3, 7:54).
Linebackers
The Ravens activated 7 linebackers excluding Ferguson and Alaka.
Chris Board (12 snaps) alternated by series with starting WLB Kenny Young. He rushed off the offensive right side (ORS) to take down Drake for a loss of 1 (Q2, 12:30). He was used exclusively as a 2-down player in this game.
Tyus Bowser (21 snaps) was particularly effective in 18 snaps as a pass defender. Either he or Judon was on the field for each play and they had 10 snaps together. These joint snaps are the key to maximizing play for Bowser. Martindale must see the coverage/pass rush flexibility of having 2 Sam linebackers in the game or their combined percentage of snaps won't exceed 100%. I'll address this further in a future article.
Tyus drew a holding flag on RT Davenport (Q3, 7:04) that negated a 17-yard pass. He beat Davenport for a fast QH (Q1, 2:33). He beat LT Davis inside to help flush Fitzpatrick into one of the brutal QHs of the day by Judon (Q3, 14:02). As a run defender I have him for one positive note and one negative as an edge setter
Matthew Judon (36 snaps) had a game of splash plays:
· (Q1, 8:37): He jammed WR Wilson then knocked down Fitzpatrick
· (Q1, 7:13): He diagnosed the lateral to RB Ballage and tackled him for a loss of 8
· (Q2, 0:24): Matthew bulled LT Davis for pressure
· (Q3, 14:02): He delivered a hard QH on Fitzpatrick negated by an accepted illegal motion penalty on WR Grant
· (Q3, 7:09): He beat LT Davis for pressure on a long overthrow for WR Parker
· (Q4, 8:41): He beat RT Davenport outside for S-6 on the Dolphins final offensive play
Pernell McPhee (24 snaps) lined up inside 13 times in single-DL packages. He delivered a cleanup sack and a hard QH among 18 snaps as a pass rusher. In terms of average snaps over 16 games (projects to 416 snaps for the season), I'll be surprised if Pernell can maintain this rate. However, this was a solid outing where he contributed as the Ravens should have hoped he would when they signed him.
Patrick Onwuasor (46 snaps) had a breakout game. In list form:
· (Q1, 10:29): Patrick rushed unblocked through right B-gap for QH, INC
· (Q1, 10:26): He was in coverage on Fitzpatrick's 12-yard completion to WR Wilson
· (Q1, 8:30): He missed a diving tackle on RB Ballage by left sideline and rolled on Jimmy Smith's leg
· (Q1, 6:11): He tackled WR Wilson in open field for gain of 1 to deny 3rd/17
· (Q1, 2:33): He deflected Fitzpatrick's pass for TE O'Leary between the numbers and right hash
· (Q1, 2:29): He rushed unblocked through the left A-gap to flush Fitzpatrick for Ricard's clean-up QH, INC
· (Q2, 6:44): He was driven back by LG Deiter to lead RB Drake RM9
· (Q2, 5:25): He shed block of LG Deiter to tackle RB Ballage RR0
· (Q2, 1:01): He was closest in coverage to WR Hearns' 22-yard reception on an extended play
· (Q3, 15:00): He dropped deep middle with Young leaving TE O'Leary and RB Drake with no one within 10 yards. Drake caught PM10 (1+9 YAC).
· (Q3, 13:54): He cleaned up Fitzpatrick for S-5 exploiting pressure from Levine, Bowser and Ricard
The results still leave questions about his coverage ability, but he effectively replicated what was good about his 2018 season with a full-time workload.
Tim Williams (26 snaps) had contributions to 5 pressures in 20 pass defense snaps as I scored it, including a flush of Rosen on Humphrey's interception (Q4, 15:00). He held the left edge vs TE Nick O'Leary to blow up Ballage for a 3-yard loss converted by Pierce (Q1, 4:17).
Kenny Young (20 snaps) split time with Chris Board and delivered a pair of fast QHs plus another flush which set up the negated QH by Judon (Q3, 14:02). He was beaten by TE Gesicki for a 26-yard reception (12 + 14) crossing (Q1, 3:34).
Secondary
Like most things in this game, results by number of defensive backs were good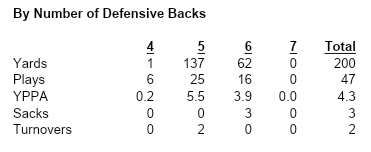 Anthony Averett (42 snaps) got an extended trial at RCB when Jimmy Smith was injured early in the game. He delivered a mixed effort. By racing form summary:
· (Q1, 3:00): He took down RB Drake quickly PL5 (5 + 0 YAC) [1]
· (Q2, 13:16): He was trailing in coverage of WR Parker on PM49 (46 + 3) [3] where Humphrey appeared to misplay the ball bracketing from the right
· (Q2, 1:42): Parker caught PL14 (14 + 0) [1] in front of Averett
· (Q2, 0:35): He collected Fitzpatrick's overthrow for Parker 25 yards out of bounds
· (Q2, 0:28): WR Williams toe tapped in front of him PL7 (7 + 0) [1]
· (Q2, 0:24): WR Williams caught PL11 in front of Anthony, who oddly disengaged from the tackle and Trawick cleaned-up
· (Q2, 0:18): He trailed Williams then slipped in end zone allowing wide open TD throw (PM6)
· (Q3, 13:58): He anticipated Parker's comeback and undercut to deflect
· (Q3, 7:45): He allowed PL12 (12 + 0) [1] to Parker to convert 3rd/10
· (Q3, 7:09): He had good coverage of Parker on an overthrow down the left sideline
The Ravens are reporting Smith's injury is not season ending, but he'll have an MRI on Monday to determine its extent. The Ravens seem to prefer Averett on the outside, but they could try him at SCB and move Branon Carr back to outside corner.
Justin Bethel (3 snaps) played the final series at LCB. Those were his first defensive snaps since the final game of 2017 with the Cardinals.
Brandon Carr (28 snaps) started at LCB (1 snap) the played exclusively SCB and only in more obvious passing situations. That excluded 5 snaps in the base defense and 12 snaps of big nickel.
Chuck Clark (15 snaps) saw action at big nickel (12 snaps), and also played free safety (3 snaps) after Thomas departed. He had a pressure and a PD rushing off the slot, but did not make my notes in coverage.
Deshon Elliott (2 snaps) saw action on the final series of the game.
Marlon Humphrey (43 snaps) did not start the game (Carr and Smith did), but came in on the 2nd play and played until replaced by Bethel for the final drive. His sliding interception (Q4, 15:00) was one of the team's defensive highlights, but he also had a PD in the end zone (Q2, 10:50) and had excellent bracket coverage of Grant 40 yards down the middle of the field with Levine (Q3, 6:01). His only coverage difficulty was the inability to track the 49-yard pass to Parker (Q3, 13:16) where he appeared in position to deflect or intercept, but he did not go up for the football. He also cleaned up Grant for a 3-yard loss by the right sideline (Q2, 11:53) after Carr contained.
Tony Jefferson (43 snaps) was outstanding as a downhill player and was not exposed at any time in coverage. He had 2 big hits after the catch resulting in an incomplete and a gain of 5. He bolted off the OLS for a tackle Wilson for a gain of 1 (Q1, 7:52). He also flushed Fizpatrick once to set up a QH by Levine (Q3, 7:45).
Cyrus Jones (3 snaps) played the final series at SCB.
Anthony Levine (13 snaps) played exclusively dime. As a pass rusher, he had a QH (Q3, 7:45) and helped Flush Fitzpatrick left for what would eventually be a sack by Onwuasor (Q3, 13:54). He and Humphrey had a tight bracket on Grant down the middle of the field (Q3, 6:01).
Jimmy Smith (6 snaps) walked off under his own power early in Q1.
Earl Thomas (44 snaps) intercepted Fitzpatrick on his 4th snap with the Ravens (Q1, 9:02). After that, the Dolphins QB was careful to avoid him in coverage.
Brynden Trawick (3 snaps) played dime for a snap in the first half and 2 more on the final series.
Defensive MVPs
This was a game with as many as 8 performances good enough to make the list of defensive stars, but I'll hold it to 3:
Matthew Judon

Patrick Onwuasor

Earl Thomas
I also have made a case for Marlon Humphrey, Tim Williams, Chris Wormley, Tony Jefferson, or Michael Pierce.